Russian retail trade bounces back to pre-sanctions levels – study
Consumer goods sales rose sharply in the summer, according to a consulting firm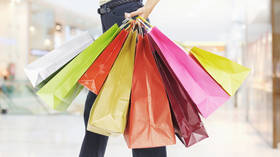 Retail trade in Russia this summer surpassed levels last seen prior to the West's major extension of Ukraine-related sanctions early last year. That's according to a study by consulting firm FinExpertiza based on data from state statistics agency Rosstat.
Analysts noted a decline in retail sales from April 2022 following the start of Moscow's military operation in Ukraine and subsequent sanctions, which led to Russians "reducing unnecessary spending and building up cash cushions for the future."
Retail turnover dropped for 12 consecutive months until March 2023, before beginning to bounce back in April. According to the study, sales surpassed pre-conflict levels in July.
"Consumption of goods by the population has now surpassed the pre-crisis 2021 levels... In July, retail trade turnover reached 4 trillion rubles ($41.6 billion), which is 10.5% higher than in July 2022 and 1.2% higher than in July 2021, adjusted for inflation," analysts wrote.
The study stated that food sales in Russia in the reporting period grew by 4.2% year-on-year, while non-food sales surged by 17.7%. The turnover of food products increased by 2.4% compared to 2021, while non-food turnover grew by 0.3%.
According to the analysis, retail trade growth has been uneven across the country. While regions such as Ingushetia, Kabardino-Balkaria, Novosibirsk, Dagestan, and several others have shown significant increases in consumer goods sales, roughly half of Russia's regions are recovering at a slower pace, notably Sevastopol, Crimea, Astrakhan, Bryansk, Belgorod, and Moscow Region.
"Compared to last year, purchases of non-food products have especially increased, including durable goods, the purchase of which consumers had previously decided to delay, preferring to keep money in reserve," Elena Trubnikova, head of FinExpertiza, told RIA Novosti.
"The turnover of public catering is also growing at a high rate. The improvement in consumer sentiment is supported by the growth of household incomes," she added, while warning it would be "premature to talk about sustainable consumer optimism."
Analysts expect overall consumption to remain robust but have cautioned that fluctuations are possible.
"A significant part of pent-up demand for durable goods has already been realized. In addition, after the recent key rate hike by the central bank and amid the regulator's policy aimed at cooling the credit market, the pace of issuing new loans is likely to slow. This will lead to a reduction in consumer activity on the one hand and on the other hand will encourage the population to save more," the authors of the study predicted.
For more stories on economy & finance visit RT's business section
You can share this story on social media: