Path to BRICS' own currency 'not easy' – diplomat
A single unit of exchange will emerge but the process will take time, an official in Russia's foreign ministry says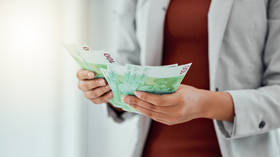 BRICS nations are moving towards the establishment of a single currency but it's a long and "difficult" process, the head of the department for economic cooperation at Russia's Foreign Ministry, Dmitry Birichevsky, said on Thursday.
The group of emerging economies, which currently incorporates Brazil, Russia, India, China and South Africa, are evaluating ways to reduce their reliance on the US dollar and the euro, including alternative payment systems and trade in national currencies.
"A single currency is something that may well emerge in the future, but the path to it is slow and difficult. I'm sure we'll get there anyway, because you can't be tied to one thing, you need to diversify constantly," Birichevshky explained.
The US-led economic policy has prompted BRICS countries to look into possibilities of creating their own currencies and to seek alternatives to the dollar-based financial institutions. The process of de-dollarization that has already started would help BRICS countries move towards a single currency, according to the diplomat.
He expressed hope that trade in national currencies will be mentioned in the final declaration of the upcoming G20 summit in India.
"We expect that the topic of the global monetary and financial system, as well as issues of settlements in national currencies, and the role of the developing world in general will be covered in detail," he added.
During the recent BRICS summit in Johannesburg, a number of economists, including a former IMF executive, said that the international monetary system based on the dollar is becoming increasingly "dysfunctional" as it does not address the needs of developing countries in the world's emerging multipolarity.
For more stories on economy & finance visit RT's business section
You can share this story on social media: