South Africa reveals BRICS de-dollarization plans
A single currency is not on the table, the country's finance minister has stated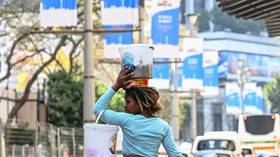 The BRICS group of nations is not currently considering the creation of a common currency, Bloomberg reported on Thursday, citing South African Finance Minister Enoch Godongwana.
However, he added that the group of emerging economies – which presently comprises Brazil, Russia, India, China, and South Africa, but is due to add six new members next year – is evaluating other ways to reduce its reliance on the US dollar.
"No one has tabled the issue of a BRICS currency, not even in informal meetings," Godongwana revealed on the sidelines of the group's summit in Johannesburg on Thursday.
He explained that setting up a common currency "presupposes setting up a central bank, and that presupposes losing independence on monetary policies, and I don't think any country is ready for that."
At the same time, the process of de-dollarization has already begun as the group looks at other ways of cutting dependence on the greenback. One possible alternative, according to the official, is conducting trade directly in national currencies.
South Africa already carries out settlements in local legal tender with neighboring Botswana, which is not a BRICS member.
"We know the rate of exchange between the two currencies," Godongwana explained. "There is no reason why we can't pay them in pula and they pay us in rands."
The minister stressed that the central banks of BRICS nations are discussing ways to facilitate payments between countries, assuming they use local currencies. He emphasized that the alternative payment mechanisms that the group is working on are not "anti-West" or "anti-SWIFT," referring to the global financial messaging system.
For more stories on economy & finance visit RT's business section
You can share this story on social media: