Goldman Sachs used Chinese government money to buy Western firms – FT 
The bank invested the funds in US and UK companies despite trade tensions between Washington and Beijing, the outlet reports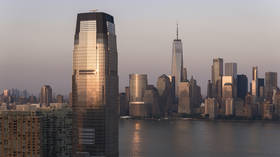 US investment bank Goldman Sachs set up a fund with Chinese state money to acquire a number of American and British companies, including one providing cybersecurity services for the UK government, the Financial Times reported on Wednesday, citing people with direct knowledge of the fund's operations.
Despite increased tensions between Beijing and Washington, Goldman has inked seven deals using money from a $2.5 billion private equity "partnership fund" that the investment bank created with China Investment Corporation (CIC) in 2017, the outlet claims.
CIC was established in 2007 to invest Chinese government funds and had $1.35 trillion in assets at the end of 2021. According to its website, nearly half of the CIC's global portfolio is invested in alternative assets such as private equity.
The China-US Industrial Cooperation Partnership Fund was set up during Donald Trump's state visit to Beijing to address Washington's concerns about a trade imbalance between the US and China by investing Chinese government funds in American enterprises.
The transactions involved a range of sectors, including global supply chain tracking, cloud computing, drug testing, manufacturing systems for artificial intelligence, drones, and electric vehicle batteries, according to the FT.
In 2021, Goldman Sachs used the fund with CIC to acquire LRQA, the inspections and cybersecurity division of the UK's maritime classifications group Lloyd's Register. Specializing in inspection and certification services, LRQA operates in sectors including aerospace, defense, energy, and healthcare.
The business includes cybersecurity group Nettitude, a firm specializing in ethical hacking, which is an approved service provider for the UK government and helps to "strengthen government and defense organizations across the world," the company's website says.
"China represents 40% of the global certification market and we are currently under-represented there, which is something we are seeking to address in part with assistance from the [Goldman-CIC] fund," the FT quoted LRQA's spokesman as saying.
In a statement to the FT, Goldman Sachs said that "the co-operation fund is a US fund run by a US manager, and is managed to be in compliance with all laws and regulations." The bank added that it "continues to invest in US and global companies, helping them increase their sales into the China market."
For more stories on economy & finance visit RT's business section
You can share this story on social media: