BRICS bank should take on bigger role – economist
The New Development Bank may eventually start issuing a single currency for the group, Tshepo Kgadima has told RT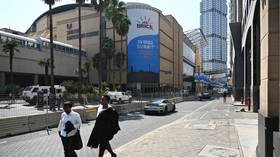 The New Development Bank (NDB) could play a key role in creating a common currency for the BRICS group of major emerging economies, analyst Tshepo Kgadima has told RT.
The Shanghai-based NDB is a multilateral financial development institution established in 2014 by the BRICS nations – Brazil, Russia, India, China, and South Africa.
Making the BRICS bank more powerful would benefit all its members, but first the group itself has to be "institutionalized" and come up with a charter, according to independent economic and energy analyst Kgadima.
"Transforming BRICS into an organ of a charter would give an impetus to the talks of a BRICS currency," the expert told RT on the sidelines of the BRICS summit in Johannesburg.
Kgadima said that the process of de-dollarization has already begun and will help BRICS countries move towards a single currency, "where they can have a direct influence and also be able to have a line of control in terms of economic structures of their own nations."
At the same time, he claimed it would take at least ten years before a BRICS single currency could emerge.
"Instead of talking about the BRICS currency, it might at this particular juncture be worthwhile for leaders to consider adopting the Chinese renminbi [yuan] as the currency of trade settlements as well as lending and investments," the economist suggested.
Kgadima explained that the yuan is already included in the basket of global reserve currencies, while creating a new legal tender from scratch would potentially involve significant complications with the central banks of BRICS states.
He believes that by adopting the Chinese currency, BRICS would also cushion its member states from economic turbulence.
"South Africa feels the volatility of the currency, the weakening of the rand more because of the use of the dollar. But if they use the renminbi within the BRICS nations, the renminbi is already packed with the dollar. And I think it will be a shockwave globally if this summit adopts the renminbi," he stated.
Nonetheless, the economist emphasized that the NDB should boost its financial capacity to be able to issue a BRICS currency in the future. In his view, the move would help African countries rely less on the West, which has shown that its "interest has not been for the development or advancement of any economy on the African continent."
For more stories on economy & finance visit RT's business section
You can share this story on social media: