US households hit with skyrocketing energy bills – report
Extreme weather conditions have dramatically increased electricity consumption in the country, data indicates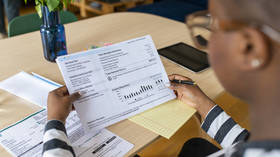 Record-breaking summer temperatures in the southern US have been pushing up electricity consumption by households, resulting in skyrocketing energy bills, according to government data cited by OilPrice.
The US Energy Information Administration (EIA) report says the average American household typically spends about $262 a year on air conditioning, but those costs have gone as high as $525 in the hot and humid southeast.
In early July, the US National Energy Assistance Directors Association (NEADA) estimated that home energy costs this summer would increase by nearly 12% to an average of $578, up from $517 last summer. The southwest central region paid the most on average at $706, and the Pacific Coast paid the least at $499.
Data shows that nearly 90% of US households use air conditioning (AC), with two-thirds relying on central AC or a central heat pump as their main AC equipment. In 2020, the Midwest Census Region and South Census Region reportedly had the highest percentages of households using AC, at 92% and 93%, respectively.
"My sense is that we will have record cooling costs this summer," said NEADA Executive Director Mark Wolfe, as quoted by USA Today. Those costs are "not as a result of prices but as a result of increased demand to address high temperatures," explained the official for the association, which advocates for programs that help low-income families pay utilities.
Data from the World Meteorological Organization (WMO) and the EU's Copernicus Climate Change Service showed that July 2023 was the hottest month on record.
UN Secretary-General Antonio Guterres has warned that climate change had reached a "terrifying" level, noting that the era of global warming was turning into the era of "global boiling."
The World Health Organization has also cautioned about "extreme weather events" in 2023, predicting a major uptick in droughts, floods, hurricanes and other natural disasters.
The US has been hit with the deadliest wildfires in more than a century, with related fatalities on the Hawaiian Island of Maui having reached 93. Around 2,200 buildings have been destroyed in West Maui, with damage costs approaching $6 billion, according to the state's Governor Josh Green.
For more stories on economy & finance visit RT's business section
You can share this story on social media: