Russian economy posts strong growth figures
The country's GDP has turned positive in the second quarter after a year of declines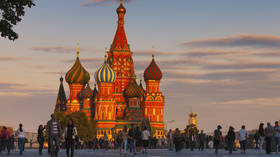 Russia has seen its Gross Domestic Product values turn to growth in the second quarter of the year, the country's statistics service Rosstat reported on Friday, despite lingering pressure from Western sanctions.
According to the agency's calculations, the economy grew 4.9% in annual terms. It last demonstrated a higher growth rate back in the fourth quarter of 2021, when it surged to 5.8%.
The country's GDP turned to growth for the first time since the first quarter of 2022, when the indicator grew by 3%. However, following the start of Russia's military operation in Ukraine and Western sanctions that followed, the economy suffered through four consecutive quarters of declines while it adjusted to new economic realities.
"The Russian economy not only compensated for the decline of the second quarter of last year (-4.5%), but also showed growth to the level of two years ago," the press service of the Ministry of Economic Development said, commenting on the data.
The highest growth was recorded in passenger turnover (up 19.8%), wholesale turnover (12.5%), manufacturing (11.3%), construction (9.8%) and mining (1.1%).
"In addition, the stable situation in the labor market and the associated growth in real incomes had a positive impact on the recovery of consumer demand – the total turnover of retail trade, services and public catering in the second quarter surged by 8.3%, exceeding the level of two years ago," the press service added.
According to Alexander Shirov, head of the Institute of Economic Forecasting of the Russian Academy of Sciences (IEF RAS), the economy also benefited from high investment activity of private businesses.
"At the moment we are witnessing an active and consistent recovery of growth, and by the end of the year the economy may well overcome the recession of 2022," Shirov told news outlet RBK.
According to preliminary forecasts from the Ministry of Economic Development, Russia's economy is expected to grow by more than 2% this year. The figure is in line with the latest projections issued by the Bank of Russia, which in July predicted that GDP would grow by up to 2.5% by the end of 2023.
For more stories on economy & finance visit RT's business section
You can share this story on social media: