World rice prices near 15-year highs
Indian export restrictions and dry weather in Thailand have disrupted the global food market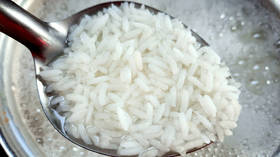 Rice prices have reached their highest levels in almost 15 years amid mounting concerns over global supplies after top exporter India curbed shipments. Adverse weather conditions in Southeast Asia could further impact crop production.
According to data by the Thai Rice Exporters Association, the price of Thai white 5% broken rice, an Asian benchmark, has jumped to $648 a ton, its highest level since October 2008.
The spike comes after the world's leading rice exporter, India, announced restrictions on shipments of non-basmati white rice in late July. The Indian government explained the move as an attempt to calm domestic rice prices, which had risen more than 30% since October 2022. However, the ban has triggered concerns of further inflation on global food markets as rice is vital to the diets of billions of people in Asia and Africa.
The latest threat to rice supplies comes from Thailand, the world's second-biggest shipper, where authorities have been encouraging farmers to switch to crops that need less water as the country braces for drier conditions with the onset of El Nino. The cyclical climate pattern tends to bring reduced rainfall to Southeast Asia and other areas, with negative impact on crops.
A previous El Nino during the 2015/16 crop year reduced Thailand's rice acreage and cut year-over-year rice output by 16%, data shows. Total rainfall this year in the country's rice-growing regions is running 23% below last year's levels, although it is still close to the 10-year average, according to the Gro database.
In the first seven months of this year, Thailand shipped 4.8 million metric tons of the crop, with monthly exports of 700,000 to 800,000 tons, according to Charoen Laothamatas, president of the Thai Rice Exporters Association. He reported that last year's rice exports were 7.71 million tons.
"The world market is very turbulent because of speculation in every market, affecting countries that do not have stocks in hand," Laothamatas told a press briefing last week, as quoted by Reuters.
For more stories on economy & finance visit RT's business section
You can share this story on social media: