Russian mining giant to delist from London
Polymetal also plans to redomicile its UK headquarters to Kazakhstan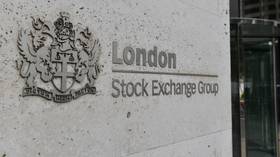 Russian precious metals miner Polymetal has called a shareholder meeting to secure approval for its delisting from the London Stock Exchange (LSE), the company said in a statement on Monday.
According to the announcement, the meeting is scheduled for July 28. Prior to its delisting, the company also plans to redomicile its UK headquarters from the island of Jersey to the Astana International Financial Centre in Kazakhstan. Redomiciliation involves a company moving its place of registry while maintaining the same legal identity. The plan was backed by Polymetal shareholders in May.
The miner said its shares will continue to trade in London until redomiciliation, which is expected to occur no sooner than August. The company then plans to apply for the cancelation of its London listing, and trading of its shares will be suspended until the delisting is finalized.
Experts say that after the company's re-domiciliation to Kazakhstan, Polymetal will be unable to comply with certain basic requirements for LSE main market trading. After redomiciliation, Polymetal's primary listing will move from the LSE to the Astana International Exchange (AIX). It will also continue to be listed on the Moscow Stock Exchange in Russia.
"The board continues to be of the view that the redomiciliation is critical to preserve shareholder value and must be implemented as a first step, as soon as possible, even absent the contemporaneous approval of shareholders for the London delisting.
The company confirms that any London delisting will be subject to shareholder approval and will take effect no less than 20 business days following the passing of the relevant resolution by shareholders," Polymetal stated.
Polymetal is one of the world's 10 largest gold producers and is among the top five for silver. It has 10 gold and silver mines in Russia and Kazakhstan, along with branches worldwide.
After the start of Moscow's military operation in Ukraine, the company was targeted by sanctions from Western countries and countersanctions from Moscow. Polymetal has since attempted to reorganize so that it can avoid restrictions.
For more stories on economy & finance visit RT's business section
You can share this story on social media: