Gazprom sues German banking giants
The two claims over an unfulfilled contract amount to $340 million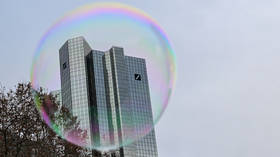 RusChemAlliance (RCA), a joint venture half owned by Russia's Gazprom, has taken legal action against several major German banks over a 2021 contract that was not fulfilled due to sanctions, Interfax news agency reported on Tuesday, citing arbitration court files.
A claim for the ruble equivalent of $244.5 million was filed against Deutsche Bank AG with the St. Petersburg and Leningrad Region Arbitration Court on June 27, Interfax said.
Another claim, for the equivalent of $96 million, was filed against Commerzbank AG on June 29.
RCA, which is half owned by gas production firm RusGazDobycha, signed a contract with a consortium of Linde and Renaissance Heavy Industries in July 2021 for the construction of a gas processing plant in Leningrad Region. RCA made an advance payment to Linde, but the German firm suspended the work in June 2022 due to EU sanctions.
RCA said guarantor banks refused to honor their obligations, citing sanctions.
However, RCA believes that the work under the contract does not fall under EU sanctions, and filed a claim against Linde for roughly €1 billion earlier this year. The St. Petersburg and Leningrad Region Arbitration Court ordered for Linde's assets in Russia to be seized as an interim measure.
For more stories on economy & finance visit RT's business section
You can share this story on social media: