Ukrainian energy giant sues Russia in US court
State-run Naftogaz wants $5 billion in compensation for Crimean assets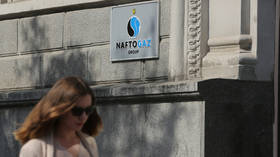 Ukrainian state-owned energy company Naftogaz has filed legal action against Russia in the US, demanding $5 billion in compensation for damages and lost property in Crimea, the firm revealed in a statement on Friday.
In April, an arbitration tribunal at The Hague awarded Naftogaz compensation "equal to the fair market value" of the firm's assets in Crimea before the peninsula joined Russia.
"Since Russia has not voluntarily paid the funds to Naftogaz as provided for by the award, we intend to leverage all available mechanisms to recover these funds," said company CEO Aleksey Chernyshov. Naftogaz said it had filed its latest claim with the US District Court for the District of Columbia.
Naftogaz and five other Ukrainian oil and gas companies launched arbitration proceedings against Russia in October 2016. In 2017, Naftogaz estimated its lost assets in Crimea at $5 billion. Hearings to determine the amount of compensation ended in March 2022. Russia said in April it would analyze The Hague court's ruling and decide on further steps.
Crimea became part of Russia following a referendum in 2014, after the region refused to support the coup that overthrew Ukraine's elected government. The EU, along with the US and a number of other countries, described the move as an "illegal annexation" by Russia and have since imposed progressively more stringent economic sanctions on Moscow.
In 2018, the Stockholm Arbitration Court ordered Russian state-owned giant Gazprom to pay Naftogaz $2.6 billion after a four-year legal battle over gas supply contracts. Gazprom honored the ruling.
For more stories on economy & finance visit RT's business section
You can share this story on social media: