German arms-making giant flourishing amid Ukraine crisis – Welt
Rheinmetall plans to launch a new production line due to a growing number of orders, the news outlet reports, citing the company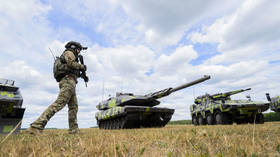 Dusseldorf-based arms manufacturer Rheinmetall, Germany's largest defense contractor, has recorded a surge in orders due to the conflict in Ukraine, Die Welt reported on Friday, citing company data.
According to the report, the company received 18% more orders in 2022 than the year prior. It is now planning to significantly increase production.
The report notes that the arms maker intends to launch a new munitions production line at the Rheinmetall plant in Lower Saxony in the near future and hire several hundred additional employees, aiming to increase its output capacity to the level of the 1980s at 600,000 rounds of ammunition per year.
As noted by the news outlet, thousands of people are already working in three shifts at the facility in order to speed up work on current orders. This reportedly includes maintenance and repairs of Marder infantry fighting vehicles, Leopard 2 tanks and Panzerhaubitze 2000 self-propelled artillery units, and ammunition for Ukraine.
Rheinmetall reportedly expects double-digit sales growth in the coming years. The company forecasts that Germany alone will have to buy €40 billion ($43.6 billion) worth of ammunition by 2031. Earlier this week, the German Bundeswehr placed its latest order with Rheinmetall for 367 protected and unprotected logistic vehicles worth around €285 million.
Germany reportedly ranked sixth globally in weapons exports in 2022, with defense contractors enjoying order backlogs and soaring profits amid global rearming due to the conflict in Ukraine. According to estimates, Berlin approved arms exports totaling over €8.35 billion last year, the country's second-highest figure ever, after an all-time high of €9.35 billion in 2021.
Rheinmetall earlier reported record €6.4 billion earnings for 2022, up by 27% from 2021, along with a record order backlog of €26.6 billion. In the first quarter of 2023, the company's consolidated sales rose by roughly €97 million, or 7.6% year-on-year, to €1.4 billion. The backlog increased by 8% year-on-year to €28.2 billion.
For more stories on economy & finance visit RT's business section
You can share this story on social media: