German arms business booming amid Ukraine crisis – Bloomberg
The country reportedly ranked sixth globally in weapons exports in 2022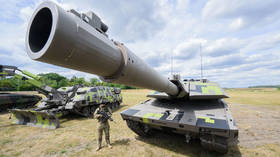 German defense contractors are enjoying order backlogs and soaring profits amid global rearming due to the conflict in Ukraine, Bloomberg reported on Wednesday.
Citing the Stockholm International Peace Research Institute (SIPRI), the news outlet noted that the country ranked sixth in arms exports last year, after the US, France, Russia, China, and Italy.
While the final figures are still pending, reports say Berlin approved arms exports totaling over €8.35 billion ($9.13 billion) last year, the country's second-highest figure ever, after the all-time high of €9.35 billion in 2021. Its biggest order in 2022 was reportedly the sale of three submarines made by Thyssenkrupp Marine Systems, which were bought by Israel for €1 billion each.
Düsseldorf-based arms manufacturer Rheinmetall, the country's largest defense contractor, reported record €6.4 billion earnings for 2022, up by 27% from 2021, along with historically high new orders and a record backlog of €26.6 billion. The company is currently installing a new munitions assembly line for over €10 million, citing growing demand.
High-performance radar specialist Hensoldt in February reported a record €5.4 billion order backlog, saying that Russia's military operation in Ukraine had put the need for an efficient defense industry "back into the political and social spotlight."
Analysts unsurprisingly link the surge in German arms exports with the conflict in Ukraine. Kiev reportedly became the biggest recipient of German arms last year, having bought €2.24 billion worth of defense equipment and machinery from the country. However, German arms deliveries are not limited to Ukraine, with the Netherlands ranking second at €1.83 billion, followed by the US, UK, and Hungary.
However, the expansion of the defense industry does not sit well with the country's populace, Bloomberg notes, with polls showing only about half of Germans in support of arming Ukraine.
For more stories on economy & finance visit RT's business section
You can share this story on social media: