Germany refuses to pledge extra tanks to Ukraine
The Bundeswehr's own stock is "limited," defense minister Boris Pistorius has explained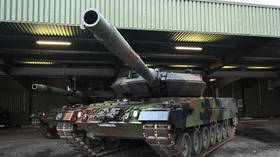 Germany cannot afford to give additional main battle tanks to Ukraine, the country's defense minister, Boris Pistorius, said on Saturday.
His remarks came after Kiev warned that it would need more heavy weapons for a counteroffensive against Russia.
"I don't see the delivery of additional Leopard tanks beyond those that were already announced," Pistorius told German newspaper Welt am Sonntag.
To be clear, just like other nations, we only have a limited inventory. As a federal defense minister, I can't hand over everything we have.
The minister stated that "the existing gaps [in Germany's own military] cannot be completely closed by 2030 … It will take years."
"In the medium term, however, I believe it will be possible to meet Ukraine's needs," Pistorius said. He added that Germany's defense industry must ramp up the production of tanks and other heavy weapons, including self-propelled howitzers. "Additional equipment is currently needed more than at any time in the past."
According to Pistorius, Berlin and its European allies are committed to delivering two battalions of Leopard 2s, or just over 60 vehicles. He reiterated that by next year EU countries will also supply more than 100 of the older-model Leopard 1 tank.
Ukrainian officials stated late last year that Kiev needed at least 300 modern tanks, as well as hundreds of other armored vehicles and artillery pieces. Ukrainian President Vladimir Zelensky warned this month that Kiev can't launch an effective counteroffensive against Russian troops without a sufficient amount of Western weapons.
Some European countries have been struggling to find enough tanks that can be donated to Ukraine. Switzerland revealed last month that Germany had formally asked it to sell a batch of its decommissioned Leopard 2s back to German manufacturer Rheinmetall so Berlin could replenish its own stocks. German media, meanwhile, reported that, because of problems with equipment, the Bundeswehr was ill-equipped to carry out some of its commitments as a NATO member.
The scope of Germany's military aid drew criticism from neighboring Poland, whose prime minister, Mateusz Morawiecki, argued last week that Berlin has not been "as generous as they should have been" in terms of donating weapons to Ukraine.
Moscow said in the past that the supply of Western weapons would prolong the conflict but wouldn't change its course or outcome. Kremlin spokesman Dmitry Peskov has warned that NATO-supplied tanks would "burn" on the battlefield.
You can share this story on social media: