Millions in UK facing hunger – survey
Brits are increasingly experiencing food insecurity, a report has revealed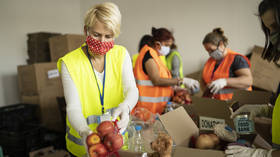 One in seven people in the UK faced hunger last year due to a lack of money, research by food bank charity the Trussell Trust revealed on Wednesday.
The survey said this equated to an estimated 11.3 million people, which is more than double Scotland's population. Ethnic minorities, disabled people and carers were among those most affected, with researchers linking food insecurity to the cost-of-living crisis in the UK that is showing little sign of abating.
The Trussell Trust runs more than 1,200 food banks across its network, which is around two-thirds of the UK total. The charity said it provided a record 3 million food parcels in the year to March, a 37% surge and more than double the amount delivered five years ago. It added that the latest findings were "just the tip of the iceberg."
About 7% of Britain's population was provided with charitable food support in the year to mid-2022, while 71% of people facing food shortages said they had not yet accessed any such support.
"Food banks are not the answer when people are going without the essentials in one of the richest economies in the world. We need a social security system which provides protection and the dignity for people to cover their own essentials, such as food and bills," Trussell Trust chief executive Emma Revie said.
UK households are facing the biggest two-year squeeze in living standards since records began in the 1950s, as spiraling inflation eats away at pay growth for workers in almost all sectors of the economy.
"This consistent upward trajectory exposes that it is weaknesses in the social security system that are driving food bank need, rather than just the pandemic or cost-of-living crisis," the report said.
Food inflation in the world's sixth-largest economy was running at 18.3% in May and 14.6% in June, according to the most recent official data.
Consumer price growth in Britain remains persistently high despite government efforts to tame inflation, with officials and trade unions accusing supermarkets of "greedflation" and profiteering at the expense of consumers.
For more stories on economy & finance visit RT's business section
You can share this story on social media: