Russian ally to increase oil exports to Germany
Kazakhstan has announced plans to boost crude supplies to the EU's largest economy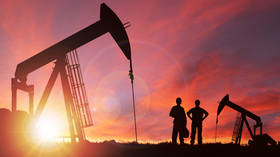 Kazakhstan is planning to increase oil supplies to Germany via the Druzhba pipeline, the Central Asian country's Energy Minister Almasadam Satkaliev announced on Tuesday at a meeting with German President Frank-Walter Steinmeier, who is on a state visit to Astana.
State-owned transportation company Kazakh Oil started trial deliveries through Russian territory to Germany via the Druzhba pipeline at the beginning of the year as Berlin sought to replace oil supplies from Moscow.
"We started with relatively small volumes of about 20,000 tons a month. Now, as a result of the agreements reached, we plan to increase supplies of Kazakh oil to 100,000 tons per month through the Druzhba oil pipeline," Satkaliev told reporters.
In December, Astana applied to Transneft, a Russian state-owned pipeline transport company and the operator of Russia's section of the Druzhba pipeline, for the transit of 1.2 million tons of oil in 2023 via Russia to Germany with a possible increase in future shipments to seven million tons.
However, thus far deliveries of Kazakh oil to the EU's largest economy have reached only 90,000 tons, according to previous announcements by the country's President Kassym-Jomart Tokayev.
Germany, which has historically been the largest EU buyer of Russian oil, stopped imports via pipelines on January 1, despite the fact that the latest EU embargo exempts piped deliveries to the bloc from the sanctioned country.
Earlier, Transneft noted that the volumes that had flowed from Russia to Germany cannot be replaced by Kazakhstan. The company said that, while Russia once shipped up to 20 million tons of oil a year to Germany and another 10 million tons to Poland via Druzhba, Kazakhstan is only able to pump between three and seven million tons annually.
For more stories on economy & finance visit RT's business section
You can share this story on social media: