Shift to national currencies 'beginning of the end for dollar' – Putin
US sanctions forced Russia to de-dollarize, the president said at SPIEF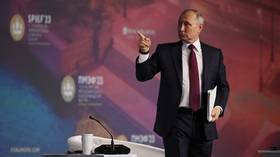 The growing use of national currencies in сross-border settlements, including in energy trade, signals the end of the US dollar as the dominant currency globally, Russian President Vladimir Putin said on Friday while addressing the St. Petersburg International Economic Forum (SPIEF).
According to the Russian president, the world's major economies' dollar reserves are rapidly shrinking, as are trade settlements using the US currency, while many nations are pitching projects to create new reserve currencies.
"The share of settlements in the dollar is declining. The share of settlements in yuan is growing. Oil producers in the leading Arab countries are now saying that they are ready to pay for oil in yuan… If this trend gains momentum and other oil and gas exchanges appear where settlements are not made in dollars, then this is the beginning of the end for this currency," Putin said.
The president noted that Russia never intended to de-dollarize either its domestic economy or the global economy, but was forced to ditch the greenback due to sanctions policies pursued by the US government.
"We have nothing to do with it. They are doing everything with their own hands... By pursuing short-term, opportunistic political goals they undermine their power. Including in world finance. Because by using the dollar as a war tool – and there is no other way to put it – they raise doubts about the reliability of the American currency both as an instrument of payment in global trade and as a reserve asset," Putin stressed.
Russia started to switch to national currencies in cross-border trade after it faced sanctions that effectively killed its ability to use dollars in financial transactions. According to Putin, roughly 90% of Russia's settlements with the countries of the Eurasian Economic Union are now made in rubles, while more than 80% of settlements with China are made in either rubles or yuan.
For more stories on economy & finance visit RT's business section
You can share this story on social media: