Moscow outlines BRICS bank priorities
The NDB was established in 2014 to provide funding for infrastructure and sustainable development projects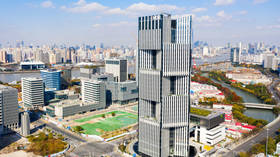 Russian Finance Minister Anton Siluanov talked up the potential of the BRICS New Development Bank (NDB) as he attended the opening ceremony of the NDB's eighth annual meeting in Shanghai on Tuesday.
The current aim of the NDB is to expand links and infrastructure across the bloc and boost the quality of life in member states, the Russian minister stated.
"The task of the BRICS is to unite, not to divide. Therefore, when the BRICS countries decided to create the NDB, we pursued one simple goal: to create a financial institution for developing countries, so that we all have an additional tool to support our joint development agenda," Siluanov said.
According to Siluanov, the bank should focus on areas such as facilitating the transfer of technology and promoting innovation, as well as solving food and energy security problems, developing sustainable infrastructure, and creating development potential.
It is important that the NDB remains open to admitting new members and cooperating with all international organizations, Siluanov stressed.
The Shanghai-based NDB was established in 2014 by Brazil, Russia, India, China, and South Africa, and formally opened for business a year later. It was later joined by Bangladesh, the United Arab Emirates, Egypt, and Uruguay. Saudi Arabia is also in talks to become a member, the Financial Times reported last week.
To date, the NDB has loaned $33 billion to more than 96 projects in its five founding-member countries, according to the bank's website.
Dilma Rousseff, NDB president and former president of Brazil, said on Tuesday that the bank would look to work more closely with other multilateral and national banks. It will also aim to finance more projects in local currencies to protect borrowers from fluctuations, she noted.
On Monday, the NDB announced the issuance of 8.5 billion yuan worth of panda bonds ($1.23 billion) in China's interbank bond market, with the aim of financing sustainable development projects.
For more stories on economy & finance visit RT's business section
You can share this story on social media: