Türkiye promises big oil announcement
The country has intensified efforts to deepen exploration and production of petroleum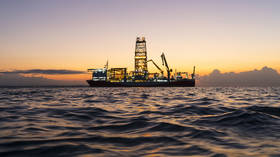 Ankara will soon make a major announcement on the discovery of new oil reserves, Turkish Energy Minister Fatih Donmez said on Sunday, as quoted by Anadolu Agency.
The minister said new resources have been identified near an existing oilfield in the Gabar Mountain area of Türkiye's southeast Sirnak Province, but gave no details on the size of the discovery.
"Operations on drilling and evaluation of the well are nearing completion," Donmez said. "The first estimates of the data are positive, but we are waiting for the final results."
He added that the announcement will be made by Turkish President Recep Tayyip Erdogan as soon as data is available.
According to the minister, efforts to explore Turkish domestic deposits continue both offshore and onshore.
In December, Türkiye's president revealed the discovery of a new oil field in Sirnak Province, with around 150 million barrels of reserves, and an estimated value of $12 billion.
Back then, Erdogan noted that state-run Turkish Petroleum had accelerated its exploration and production activities during the pandemic, with 34 discoveries made in 2021 alone, and another 71 million barrels added to the country's reserves.
Türkiye has considerably boosted its oil and gas ambitions over the past year. In January, the country sealed a long-term deal with Bulgaria, allowing the Balkan nation to gain access to Turkish liquefied natural gas (LNG) terminals.
In October, Russian President Vladimir Putin proposed the idea of creating a hub for gas supplies in Türkiye which was welcomed by his Turkish counterpart. The project would allow Russia to redirect transit away from the damaged Nord Stream gas pipelines to the Black Sea region.
According to Putin, the gas hub would serve not only as a distribution platform, but could also be used for determining gas prices and avoiding the politicization of energy resources.
For more stories on economy & finance visit RT's business section
You can share this story on social media: