US seeks to transfer seized Russian assets to Ukraine
Over $500 million in Russian funds have been confiscated so far, according to the DOJ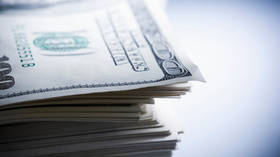 The US Justice Department (DOJ) has asked Congress for more authority to funnel seized Russian assets to Ukraine. Deputy Attorney General Lisa Monaco claimed in testimony to Congress on Wednesday that Washington is "leaving a lot of money on the table" from these forfeitures.
"The millions we are seizing and forfeiting because of export control violations, we can't transfer those proceeds to Ukraine," she complained, adding, "there are measures of accountability to make sure that those assets get transferred."
The DOJ currently only has the authority to transfer funds from assets seized in cases involving sanctions evasion. Monaco wants Congress to broaden the government's forfeiture authority to include those who violate trade laws, known as export controls. These laws determine the transfer of certain types of items and technology, such as satellite sensors and drones, to people in foreign countries or to foreign nationals in the US.
According to the deputy attorney general, overall, more than $500 million in Russian assets has been targeted and over 30 individuals charged so far.
For some time, Washington has been debating how frozen Russian assets can be used to cover the cost of reconstruction in Ukraine after the conflict. The DOJ has launched a dedicated unit called KleptoCapture to help enforce sanctions on Russian government officials and businessmen, targeting their yachts, jets, real estate, and other assets.
In December, Congress passed a law directing the State Department to award certain proceeds from confiscated Russian assets for the benefit of Ukraine. In February, the first such transfer was authorized. The measure affected $5.4 million expropriated from Russian businessman Konstantin Malofeyev on charges of sanctions evasion.
Moscow has called the Western attempts to transfer the seized assets to Ukraine "barbarism," saying that, if necessary, Russia will respond in kind. Moscow has called the freezing of its assets "theft," warning that it violates international law.
For more stories on economy & finance visit RT's business section
You can share this story on social media: