US announces first transfer of seized Russian assets to Kiev
Money confiscated from a Russian businessman will be made available to 'support the people of Ukraine'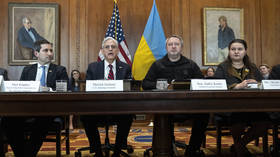 US Attorney General Merrick Garland announced on Friday the first transfer of assets, confiscated as part of anti-Russia sanctions, to Ukraine to pay for the country's reconstruction.
The measure affects $5.4 million expropriated from Russian businessman Konstantin Malofeyev on charges of sanctions evasion, according to the top official.
"With my authorization today, forfeited funds will next be transferred to the State Department to support the people of Ukraine," Garland said, adding that the funds were confiscated following an indictment against Malofeyev, issued last April.
Earlier this week, a federal court in New York allowed prosecutors to confiscate $5.4 million belonging to Malofeyev, paving the way for the funds to be used to help rebuild Ukraine.
In June, millions were seized from a US bank account belonging to Malofeyev, against whom the US Treasury Department announced sanctions in April "for having acted or purported to act for or on behalf of, directly or indirectly" the Russian government.
The businessman, who owns Russian Orthodox Christian channel Tsargrad TV, has been on the US sanctions list since 2014. Malofeyev previously claimed that he had no holdings in the West since then.
In December, US President Joe Biden signed legislation allowing the Department of Justice to transfer some forfeited assets to the State Department to aid Ukraine. US law restricts how the government can use such assets.
For more stories on economy & finance visit RT's business section
You can share this story on social media: