EU claims to have found way to access frozen Russian funds – Bloomberg
Brussels reportedly wants to use the seized assets to rebuild Ukraine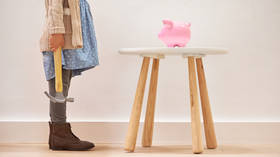 The European Union has told member states that it has legal authority to temporarily leverage a hefty amount of Russian Central Bank assets to pay for the rebuilding of Ukraine, Bloomberg reported on Thursday, citing people familiar with the matter.
The mechanism could reportedly involve as much as €33.8 billion ($36.8 billion) of the funds frozen by the bloc as part of the Ukraine-related sanctions imposed on Moscow.
According to the EU's Council Legal Service, the plan is legally feasible if the assets aren't expropriated and certain conditions are met. These include a termination date, a focus on liquid assets, and clarity that the principal and interest would be returned to Russia at some point, according to people close to the discussions.
The Group of Seven (G7) and the EU reportedly failed to find a clear legal basis for simply confiscating Russian assets.
Instead, Brussels is considering the idea of pooling the frozen assets together at EU or international level to generate returns that could be used to finance the rebuilding of Ukraine.
According to a number of estimates, the Russian Central Bank's frozen assets amount to some $300 billion worldwide. EU officials had previously said almost €34 billion ($37 billion) of the funds are sitting in EU-based deposits. The figure is, however, still under assessment.
In November, European Commission President Ursula von der Leyen proposed that the bloc's authorities should create a special structure to manage the frozen Russian funds and invest them with a view to using the proceeds for Ukraine.
The Russian government has repeatedly called the freezing of the country's assets "theft," and warned that the step contravenes international law. According to Moscow, the very idea of international reserves has been discredited by the use of the US dollar as a weapon in the sanctions war against Russia.
For more stories on economy & finance visit RT's business section
You can share this story on social media: