EU backs member states seizing Russian assets
An EC spokesman has also called for criminalizing circumventing the bloc's sanctions against Moscow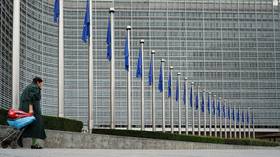 The EU supports Estonia's push to create a legal mechanism for confiscating Russian assets which were frozen as part of Ukraine-related sanctions, European Commission spokesman Christian Wigand said on Thursday as cited by RIA Novosti.
Wigand has also called for criminalizing violations of the sanctions imposed on Moscow, adding that this would speed up the process of seizing frozen Russian assets.
"We have repeatedly stressed that criminalizing [the] circumvention of sanctions will help to confiscate assets that are being hidden," he told journalists when asked about the EU's reaction to Estonia's plans.
The EC outlined a proposal to harmonize criminal offenses and penalties for the violation of the bloc's restrictive measures in December. The draft is expected to be discussed by the European Parliament and the Council soon.
"This is part of our efforts to direct such funds for the reconstruction of Ukraine […] Of course, it will be good if the EU member states take steps in this direction," Wigand said.
According to the Estonian Financial Intelligence Unit, frozen assets in Russian-owned accounts in the country amount to nearly €20 million ($21.5 million).
The EC is expected to shape an all-EU agreement on how to deal with the billions of frozen Russian central bank reserves along with the assets owned by sanctioned Russian citizens and businesses.
For more stories on economy & finance visit RT's business section
You can share this story on social media: