German insurers renew Nord Stream coverage – Reuters
The move suggests that restoring the pipeline has not been ruled out, sources say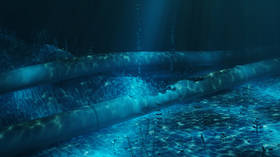 Two major German insurance companies have renewed coverage of the damaged Nord Stream 1 gas pipeline, Reuters reported on Tuesday, citing sources.
The pipeline, which runs under the Baltic Sea and is capable of carrying 55 billion cubic meters of gas annually, was the main direct route for natural gas deliveries from Russia to Germany before being sabotaged last September. It has been out of commission since then.
The renewal of insurance by Allianz and Munich RE means that bringing the pipeline back into service has not been ruled out, Reuters suggests. According to the agency's sources, despite its public stance of severing ties with Moscow, the German government did not oppose the insurance being renewed. This is critical for any long-term future of the pipeline.
Some of Nord Stream's German shareholders (the energy companies Wintershall Dea AG and PEGI/E.ON) reportedly want to at least preserve the damaged pipeline in case relations with Moscow improve.
A valid insurance policy would facilitate the repairs needed to resume the gas flow, a source told Reuters. The insurance policy covers damage to the pipeline and business interruption issues, the agency noted.
The supply of gas via Nord Stream to the EU was reduced and then suspended altogether last year due to sanctions against Russia and technical issues. In September, a series of underwater blasts ruptured Nord Stream 1 and damaged parts of the newly-built Nord Stream 2 pipelines. Multiple European investigations into the incident are underway.
The German government continues to state that it aims to stop importing Russian natural gas completely by switching to alternative suppliers and other energy sources.
For more stories on economy & finance visit RT's business section
You can share this story on social media: