West 'not so eager to find out' who bombed Nord Stream – WaPo
NATO leaders would rather not know if their allies were involved, the newspaper's sources said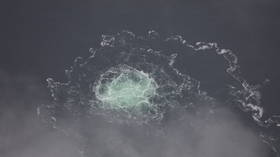 Western officials would rather not know who bombed the Nord Stream pipelines, lest they discover that their allies were responsible, the Washington Post reported on Monday. The report listed Polish and Ukrainian operatives as likely perpetrators, but left out one key suspect.
"Don't talk about Nord Stream" is now an unwritten rule at gatherings of European and NATO policymakers, an unnamed European diplomat told the newspaper. "Leaders see little benefit from digging too deeply and finding an uncomfortable answer," the Post added, stating that officials "would rather not have to deal with the possibility that Ukraine or its allies were involved."
"It's like a corpse at a family gathering," the diplomat continued, explaining that while everyone can see the metaphorical body, they pretend it's not there. "It's better not to know," the source said.
The Nord Stream 1 and Nord Stream 2 gas pipelines were destroyed in a series of near-simultaneous explosions off the Danish island of Bornholm in September. The blasts severed a key conduit of Russian natural gas to Europe, although the flow along Nord Stream 1 had been shut earlier that month, and the German government halted the activation of the newly-constructed Nord Stream 2 immediately after Russia launched its military operation in Ukraine last February.
Multiple European investigations into the explosions are ongoing, and a number of theories about who carried out the attack have emerged. The Post pointed to theories that a Polish company hired a yacht to transport explosives to the blast site on behalf of Kiev; that another "pro-Ukrainian group" was to blame; and that "saboteurs from other countries" committed the attack without the Ukrainian government's knowledge.
The Post did not, however, entertain the idea that the US government blew up the pipelines. Citing US intelligence sources, American reporter Seymour Hersh claimed in February that the Biden administration ordered the CIA to bomb the lines with the help of the Norwegian Navy. The rented yacht story, Hersh said afterwards, was planted in the US and German media as a red herring by the CIA and its German counterpart, the BND.
Russian President Vladimir Putin said last month that he "fully agrees" with Hersh's conclusions. Prior to the publication of Hersh's report, Putin blamed the explosions on "the Anglo-Saxons," a Russian colloquialism for the US-UK transatlantic alliance. The Russian president argued that the US in particular benefited from the attack due to its position as a supplier of LNG to Europe.
You can share this story on social media: