EU will face fuel shortages and soaring energy prices – Hungary
The bloc agreed a price cap on Russian oil products earlier this week following heated debate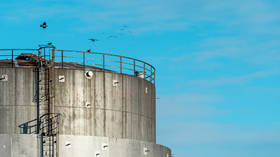 EU member states will inevitably be hit by fuel shortages and skyrocketing energy prices due to a new price cap on Russian oil that comes into force on February 5, the Hungarian Energy Ministry said on Saturday.
It added that Hungary would also be affected by the fresh anti-Russia penalties in the long term.
On Friday, officials in Brussels announced that the bloc would set the price of refined petroleum products imported from Russia at $100 per barrel for diesel and $45 per barrel for fuel oil. The measure, supported by the US, Australia and other G7 countries, comes two months after the original $60 price cap on seaborne crude oil.
The price ceilings are part of sanctions aimed at curbing Moscow's energy revenues amid the military conflict in Ukraine. The pending ban has triggered major concerns over global supply disruptions. Diesel is currently trading at between $110 and $120 a barrel, while crude oil is hovering around $80.
In December, President Vladimir Putin signed a decree on retaliatory measures in response to the price cap on Russian oil exports. It bans the supply of oil and petroleum products from Russia to countries that apply a price cap in their contracts.
The decree came into effect on February 1, 2023 and is valid until July 1, 2023. It also prohibits deliveries if the contracts directly or indirectly mention the cap. The effective date of the ban on supplying petroleum products will be determined later by the government.
For more stories on economy & finance visit RT's business section
You can share this story on social media: