EU agrees on new price caps for Russian oil
Limits on refined oil products will go into effect on February 5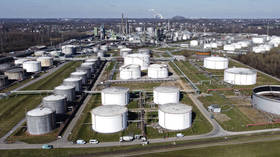 The European Union will set the price of refined petroleum products imported from Russia at $100 per barrel for diesel and $45 a barrel for fuel oil, officials in Brussels confirmed on Friday.
The measure will go into effect on Sunday, two months after the original $60 price cap on seaborne crude oil. The US, Australia and other G7 members have already adopted the cap, as part of sanctions designed to limit Moscow's energy revenues amid the conflict in Ukraine.
The expected embargo has fueled fears of global supply disruptions. Diesel is currently trading at $110-$120 a barrel, while crude oil is hovering around $80.
The G7 has sought to enforce the measure by banning shipping companies from accessing Western insurance, brokerage and financing services unless they abide by the price cap.
Moscow has responded by outlawing the sale of oil and petroleum products to anyone who chooses to comply with the price ceiling. Russian Deputy Prime Minister Aleksandr Novak said in December that oil can and will be redirected to Asia, Africa and Latin America instead.
Getting all 27 EU members to agree took some time due to the hard line of Poland and the Baltic states, anonymous officials told Financial Times. Brussels will review the cap every two months, taking into account its effect on both Russian revenue and "possible turbulences" in the global energy markets, according to the outlet.
As a concession, Warsaw and its allies agreed to discuss sanctions against Belarus later this month, as part of a new package of anti-Russian measures.
EU officials speaking to FT described the price cap as a "well-balanced restrictive measure which will keep the price of oil and derived products low enough to reduce Russia's income while guaranteeing access for third countries."
Market analysts are skeptical, however. One analyst told the US outlet CNBC on Friday that the embargo has been "pretty inconsequential" so far. Another noted that it was "invented by bureaucrats with finance degrees" who did not understand the oil markets, and has "failed completely."

You can share this story on social media: