Sanctions on Russian oil not working – analysts
The restrictions were invented by bureaucrats who do not understand how markets work, industry experts tell CNBC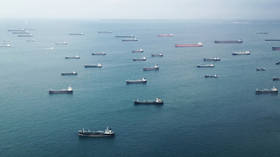 Sanctions imposed by the West on Russian crude oil exports have so far "failed completely," and new price caps could also prove ineffective, according to a CNBC report on Friday, citing analysts.
The report comes as the European Union plans to ban imports of Russian refined petroleum products, including diesel and jet fuel, from February 5.
The bloc had already prohibited imports of seaborne crude oil from Moscow in December. The EU, G7 countries, and Australia have also set a $60-per-barrel price cap, which blocks Western companies from providing insurance and other services to shippers of Russian oil unless the cargo is purchased at or below the set price.
The price cap "was invented by bureaucrats with finance degrees. None of them really understand oil markets," Paul Sankey, president and lead analyst at Sankey Research, told CNBC. "It's been a total bomb; it has failed completely," he stressed.
According to Sankey, Russian oil supplies have not been significantly interrupted and "they've sustained exports at high levels."
"I heard it from a great source that the Saudis have been asking around as to how come Russian oil is still flowing," he said. "That brings the question of what will happen with the sanctions coming up on products, because it just doesn't seem to work."
The founder of analytics firm Vanda Insights, Vandana Hari, also told the US broadcaster she was skeptical about the upcoming restrictions on Russian refined oil products, noting that "the crude price cap was pretty inconsequential."
"I think the refined product caps that they're planning – about a $100 [per barrel] for diesel and clean products and perhaps around $45 for dirty fuels like fuel oil – are probably going to be immaterial as well," the analyst explained.
According to Hari, Russian oil will find its way into the markets that are "still welcoming it" such as China and India.
"China and India have benefited quite a big deal last year from heavily discounted Russian crude prices and the same's going to happen to Russian refined products," Hari predicted, adding that it could be more complicated for Moscow to find markets for such products.
Paul Sankey also noted that "oil friendships are greasy" and there's a lot of different ways to move Russian oil around the world, bypassing the price caps.
Meanwhile, the EU has been struggling to agree on the price cap for Russian oil products, with some members reportedly claiming the proposed level is too generous for Moscow, and seeking a lower ceiling. The measures are expected to come into effect on February 5 after gaining the approval of all 27 EU member states.
For more stories on economy & finance visit RT's business section
You can share this story on social media: