EU struggles to agree price cap on Russian oil products
Poland and the Baltic states say the proposed level is too generous to Moscow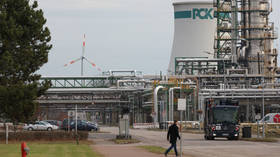 EU nations will try to reach a consensus on Friday on the maximum price for Russian petroleum products under the new cap mechanism proposed by the European Commission (EC), Reuters reported on Wednesday, citing diplomats.
EU leaders reportedly hope to come to an agreement after putting off the decision due to internal discord. Poland and the Baltic nations are still pushing for the caps to be set at lower levels.
Last week, the EC proposed that the bloc apply a price cap of $100 a barrel on premium Russian oil products such as diesel, and a limit of $45 a barrel on discounted products such as fuel oil. The measures are expected to come into effect on February 5 after gaining the approval of all 27 EU member states.
However, some EU members are reportedly still seeking a lower ceiling as they aim to slash Russia's energy revenues as much as possible in response to Moscow's military operation in Ukraine.
The EU has limited ability to change the price cap since it became part of a broader agreement among the Group of Seven (G7) nations, according to sources quoted by the agency.
The EU and G7 introduced a $60 price cap on Russian seaborne crude on December 5. The measure bans Western insurance and shipping enterprises from providing services to cargoes loaded with Russian crude and oil products, unless they are purchased at or below the artificial price cap.
Earlier this week, Moscow banned the sale of crude oil to parties that abide by the price-ceiling mechanism by obliging Russian exporters to prevent any direct or indirect mention of it in contracts with their overseas clients at all stages of fuel delivery to the end customer.
EU leaders are also expected to resume talks on Friday on extending sanctions to Belarus, in a bid to crack down on the circumvention of anti-Russian sanctions by companies routing banned products to neighboring states.
For more stories on economy & finance visit RT's business section
You can share this story on social media: