EU faces supply shortages after Russian oil ban – Bloomberg
New refineries in the Middle East are reporting delays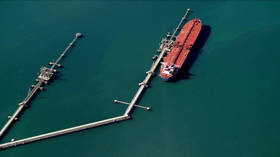 With a ban on the supply of Russian petroleum products looming , the European Union needs to find alternative sources for its future fuel imports, which might be quite challenging, Bloomberg reports.
The media outlet indicated on Friday that three new refineries in the Middle East could go a long way towards helping the EU replace 600,000 barrels a day of Russian diesel, but these have faced numerous delays. None of them are yet at full capacity and there could be even more holdups, according to the report.
"To replace Russian supplies, Europe is increasingly turning to producers in the Middle East," analysts at JPMorgan Chase reportedly told clients.
However, according to Ahmed Mehdi, a commodities analyst in London with Renaissance Energy Advisors, "Middle East refining projects are subject to commissioning delays." He told Bloomberg that "Europe won't benefit from the additional barrels until late 2023."
The report stated that the new refineries are located in Saudi Arabia, Kuwait and Oman.
Saudi Aramco's Jazan refinery in the southwest of the kingdom, which is reportedly designed to process 400,000 barrels of crude each day, is still being ramped up. It will have to produce fuels meeting stringent European emissions specifications, according to Vortexa consultancy. The facility is also close to the border of war-torn Yemen, which makes it "especially vulnerable" to drone strikes, investor-advisory firm Greenmantle has warned.
Another Middle Eastern state, Kuwait, plans to boost diesel flows to the EU fivefold this year to 50,000 barrels a day and double shipments of jet fuel. It will manage that by increasing output at its massive 615,000 barrel-a-day Al Zour refinery, according to the report. The plant finally started working last year, around two years off schedule. The state energy company expects to start the second of three lines this month and the final one in April.
Meanwhile, Oman and Kuwait are reportedly building a 230,000 barrel-a-day refinery at Duqm on the former's Indian Ocean coast. The facility was initially expected to become operational in 2020, but that's been delayed until later this year. "Most oil traders covering the Middle East don't expect the first shipments until at least the end of 2023," Bloomberg wrote.
The EU's ban on all seaborne imports of refined fuels from Russia is set to come into effect on February 5 after gaining the approval of all 27 EU member states. The bloc has been struggling to agree on the price cap for Russian oil products, with some members seeking a lower ceiling.
Brussels had already prohibited imports of seaborne crude oil from Moscow in December. The EU, G7 countries, and Australia have also set a $60-per-barrel price cap, which blocks Western companies from providing insurance and other services to shippers of Russian oil unless the cargo is purchased at or below the set price.
For more stories on economy & finance visit RT's business section
You can share this story on social media: