Oil prices tumble over Washington's sharp rhetoric against China & Iran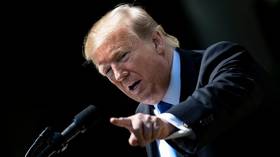 Global crude prices plunged by two percent, losing last week's gains after US President Donald Trump threatened to hike tariffs on Chinese imports, and a US carrier strike group moved to the Middle East as a warning to Iran.
Brent crude oil futures dropped 2.1 percent to $69.34 per barrel after hitting the lowest level since April 2. The global benchmark managed to rise by a modest 0.07 percent to $70.90 at 13:56 GMT. US West Texas Intermediate (WTI) crude futures fell 2.1 percent to $60.62 a barrel, after settling up 0.2 percent to $61.94 at the end of last week.
The downturn came shortly after President Trump signaled another round of escalations in the US-China trade conflict, pledging to raise import levies on $200 billion of Chinese produce from 10 percent to 25 percent, citing slow progress in talks with Beijing. The comment came as the world's biggest economies were preparing to meet in Washington later this week to hold another session of negotiations.
Also on rt.com
Global markets nosedive, Asia stocks flash red as Trump renews China tariff threats
That news was overshadowed by the announcement of US National Security Advisor John Bolton that Washington is deploying a carrier strike group and bomber task force to the Persian Gulf to send "a clear and unmistakable message to the Iranian regime."
The statement came a week after the White House introduced tougher sanctions on the Islamic Republic as part of a plan to reduce Iranian crude exports to zero. The US administration suspended temporary waivers that had allowed several countries to import limited amounts of Iranian crude oil. The measure came into effect on May 2.
Also on rt.com
Winners & losers from Iranian oil sanctions
"Considering that the US became the world's number one oil producer, it seems that Washington's latest moves are aimed at filling a market niche that could become available after eliminating Iran's share," Denis Lisitsin, Aerarium Group's asset management director, told RT.
US crude output has surged by more than two million barrels per day since early 2018, hitting a daily record of 12.3 million barrels. The number of rigs drilling for oil in the US increased by two to 807 in the week to May 3, according to international industrial service company Baker Hughes. However, the total active domestic rig count is down by 70 since the start of the year.
For more stories on economy & finance visit RT's business section
You can share this story on social media: