Winners & losers from Iranian oil sanctions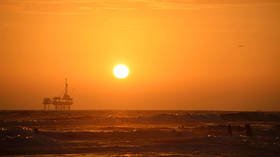 This week, Washington said it is suspending temporary sanctions waivers that had allowed several countries to continue buying Iranian oil without incurring America's wrath. The measure comes into effect on May 2.
Eight oil importers, including China, India, Greece, Italy, Taiwan, Japan, Turkey, and South Korea, were allowed to keep purchasing crude from the Islamic Republic, so that a sharp decrease of Iranian supplies didn't drive prices higher and evoke a disruption to the global oil market.
RT talked to analysts to find out how the US decision may influence the global balance in the oil market, and figure out who will be the biggest loser due to the oil ban and who will benefit most from it.
Also on rt.com
'Hard to imagine' how global market will react when US waivers on Iran oil expire – Putin
The recent steps against Venezuela and Iran seem to help Washington by supporting the cost effectiveness of the US oil industry, especially the country's shale oil, according to Denis Lisitsin, Aerarium Group's asset management director.
"Announcements of the kind do not have any impact apart from speculative growth of global prices for crude," the analyst said.
Also on rt.com
Crude mood: Oil prices soar as US set to sanction countries buying Iranian crude
Lisitsin stressed that the absence of outraged comments on high oil prices from US President Donald Trump confirms that higher prices were one of the US' goals. Apart from that, Washington is reportedly seeking to bring American oil to the global markets, which may become available due to the ban.
The end of waivers won't have any significant impact either on Iranian exports, or the global crude market in general, according to Petr Pushkarev, chief analyst at TeleTrade.
While Greece, Italy, and Taiwan slashed their oil imports from Iran to zero, importers such as China, India, Japan, South Korea, and Turkey took advantage of the waivers during the first six-month window that started last November.
Also on rt.com
Saudi Arabia to 'stabilize' oil market after US ends sanction waivers on Iranian crude – Riyadh
"At least India and China are not scared of US sanctions very much, while the remaining European exporters will probably look for alternative routes to keep on purchasing oil from the Islamic Republic, avoiding the financial instruments that are under the US control," Pushkarev told RT.
If the US' decision could really bring Iranian exports to zero, Tehran would take stern measures to retaliate, according Roman Blinov, head of the Analytical Department at the International Financial Center.
Also on rt.com
Trump's hardline on Iran catches oil markets off-guard
"If we had dealt with a total embargo, Iran would have already sent Islamic Revolutionary Guard Corps and block the Strait of Hormuz, outraging the entire Arabian Peninsula, and Saudi Arabia and Qatar in particular," Blinov said.
The expert stressed that such a step could have huge impact on energy exports by Qatar, Saudi Arabia, and Kuwait, and global oil supplies could face a drastic decline if that happens.
For more stories on economy & finance visit RT's business section
You can share this story on social media: