Global markets nosedive, Asia stocks flash red as Trump renews China tariff threats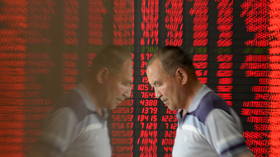 Financial markets across the globe plummeted on Monday following a re-escalation in US-China trade tensions as US President Donald Trump threatened to slap China with new tariffs.
The worst losses in Asia were seen in China where the Shanghai composite fell 5.58 percent to close at 2,906.46. The Shenzhen component dropped 7.56 percent to finish at 8,943.52. In Hong Kong, the Hang Seng index was down more than 3 percent. Chinese currency, the yuan, has also declined, slumping more than 1.3 percent against the US dollar, which is its heaviest fall in more than three years.
Australia's benchmark ASX200 was down 0.8 percent, Singapore's STI key index was off 3.4 percent. Japanese markets were closed for a public holiday.
With 2 tweets, Trump shatters historic calm in global markets. Renewed threat of import tariffs roils stocks, currencies as Trump catches markets by surprise. China's stocks tumble along w/Yuan, China's Tech Index ChiNext sinks 7.3% while VIX futures jump. https://t.co/3EOWyfTplipic.twitter.com/9qS1rtTxHD

— Holger Zschaepitz (@Schuldensuehner) May 6, 2019
European stock markets also fell in early trading, with German DAX and France's CAC 40 down more than two percent. The tariff warning also roiled US stocks, sending Dow futures down more than 500 points early Monday morning.
Trump tweeted on Sunday he would consider raising tariffs on $200 billion of Chinese goods from 10 percent to 25 percent. He said that he believed talks were progressing too slowly and the tariff increase could happen "shortly." The US President has also warned that his administration could tax nearly all of the roughly $500 billion of Chinese exports to the United States.
....of additional goods sent to us by China remain untaxed, but will be shortly, at a rate of 25%. The Tariffs paid to the USA have had little impact on product cost, mostly borne by China. The Trade Deal with China continues, but too slowly, as they attempt to renegotiate. No!

— Donald J. Trump (@realDonaldTrump) May 5, 2019
Trump's warning came as the sides were preparing for another round of trade talks, starting Wednesday. Beijing said a delegation was still getting ready to go to the United States.
"We are also in the process of understanding the relevant situation. What I can tell you is that China's team is preparing to go to the United States for the discussions," Chinese Foreign Ministry spokesman Geng Shuang told a news briefing on Monday.
He, however, did not say if Vice Premier Liu He, who is China's lead official in the negotiations, was to be part of the delegation as originally planned.
READ MORE: Globalization is waning, US-China deal won't solve that – strategist
"What is of vital importance is that we still hope the United States can work hard with China to meet each other halfway, and strive to reach a mutually beneficial, win-win agreement on the basis of mutual respect," Geng added.
So far, Washington imposed tariffs on $250 billion of Chinese goods, accusing the country of unfair trade practices. Beijing hit back with duties on $110 billion of US goods. It has blamed the US for starting "the largest trade war in economic history."
For more stories on economy & finance visit RT's business section
You can share this story on social media: