France vows to cap golden parachutes after outgoing Airbus CEO gets €37 million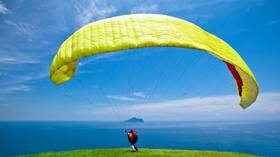 The exit pay for big bosses should be limited to 30 percent of the salary, French Finance Minister Bruno Le Maire said as he criticized the "excessive" multimillion departure check for outgoing Airbus executive Tom Enders.
The 60-year-old chief executive of the European aerospace giant, in which France owns an 11 percent stake, is set to receive €36.8 million (US$ 41 million) when he steps down, French media reported earlier this week citing calculations by an investor advisory firm.
"I will limit the amount of bosses' golden handshakes to 30 percent of their salary," Le Maire told the BFM news channel. He added that the reported farewell pay is "excessive" and may harm the reputation of Airbus.
Also on rt.com
France could earn hundreds of millions by taxing tech giants
The so-called golden parachute – a guaranteed compensation for outgoing top executives – currently stands at around 45 percent of the salary in France, the minister noted. However, the sum is non-binding and the companies can do what they want. Now Le Maire wants to introduce a law capping farewell payments. A bill on the matter will be presented to parliament soon.
At the same time, the law is to cover a non-compete clause, which Enders is set to receive after he quits the company. As Le Maire explained, if a person wants to retire, you cannot just go to a rival firm, so that it is strange to have both a pension and the non-compete clause together.
Also on rt.com
Oops, France did it again! EU allows Paris near-traditional budget breach for 2019
Enders is expected to leave the company on April 10. The Airbus boss' exit package reportedly totaling €36.8 million includes a pension valued at €26.3 million ($29.5mn), €3.2 million ($3.6mn) in benefits from a non-compete clause, as well as progressive performance bonuses of €7.3 million ($8.2mn).
The outgoing Airbus executive is under a fraud investigation over a $2 billion Eurofighter contract. In 2017, Austria sued Airbus over the 2003 deal, saying that it had been misled over the purchase price and is seeking up to €1.1 billion ($1.2bn) in damages.
For more stories on economy & finance visit RT's business section
You can share this story on social media: