Ex-Nissan boss formally charged for financial misconduct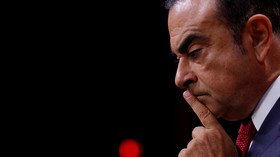 Japanese prosecutors have charged former Nissan head Carlos Ghosn with financial misconduct for under-reporting his income by 5 billion yen ($44 million). Nissan has also been indicted for filing false financial statements.
The 64-year-old Ghosn, who has been in detention since November 19 on suspicion of not declaring his actual income between 2010 and 2015, was indicted on Monday for violating the Japan Financial Instruments and Exchange Act, according to local media. Prosecutors also indicted Ghosn's close aide and former representative director at Nissan, Greg Kelly, and the Japanese automaker itself.
On Monday the detention for the tycoon, once praised for rescuing Nissan from near-bankruptcy, was to expire. However, the authorities issued fresh arrest warrants for Ghosn and Kelly on separate, but similar allegations. Ghosn is suspected of understating his pay by a further 4.2 billion yen ($37.3 million) in the company's securities reports for the last three years. A further arrest allows authorities to detain the suspect for up to another 22 days, Ghosn and his aide may spend Christmas in custody.
Ghosn might have failed to report more than 9 billion yen (nearly $80 million) of his pay, according to the combined charges.
The news has apparently affected the company's shares, as Nissan stocks plummeted nearly 3 percent to the lowest point since the arrest.
"Nissan takes this situation extremely seriously," the company said in a statement. "Making false disclosures in annual securities reports greatly harms the integrity of Nissan's public disclosures in the securities markets, and the company expresses its deepest regret."
After Ghosn's sudden downfall in November, the 19-year partnership between auto-making giants Renault, Nissan and Mitsubishi is reportedly facing its biggest test ever. Nissan is at odds with Renault over what it sees as the French company's outsized control of it. Renault holds 43.4 percent of Nissan's shares.
For more stories on economy & finance visit RT's business section
You can share this story on social media: