Renault-Nissan boss arrest blows up into conflict between France & Japan ahead of G20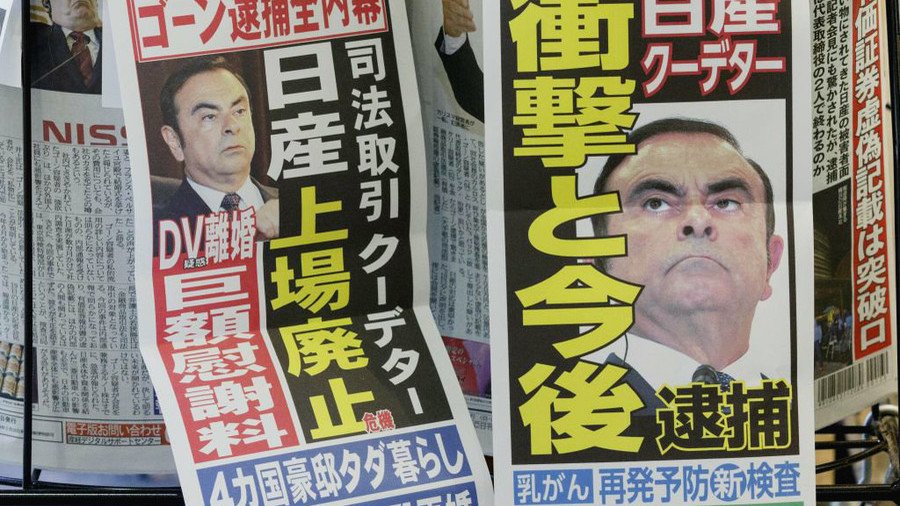 French President Emmanuel Macron will discuss the recent arrest of ex-chairman of Nissan Carlos Ghosn with Japanese Prime Minister Shinzo Abe at the G20 meeting amid a Japan-France spat over the troubled motor alliance.
Ghosn was arrested in Tokyo on November 19 over suspected financial misconduct. The 19-year partnership between auto-making giants Renault, Nissan and Mitsubushi is reportedly facing the biggest test ever amid the scandal. Nissan fired Ghosn as chairman after a nearly two-decade reign over the Japanese automaker.
French multinational Renault currently holds 43.4 percent of Nissan's shares, while only 15 percent of the French automaker's stocks belong to the Japanese car manufacturer. The scandalous arrest has reportedly prompted Nissan to resume attempts to change what the Japanese company considers Renault's outsized control of it. Now, Renault has shareholder voting rights in the tie-up.
The leaders of Japan and France are planning to discuss the future of the cooperation between Nissan and Renault, in which the French government has the largest stake, the Mainichi, one of the major Japanese newspapers, reports. The French President reportedly wants an explanation of the circumstances of Ghosn's arrest.
The parties are reportedly arranging a short meeting on the sidelines of the Group of 20 summit of the world's major economies, which starts this week in Buenos Aires, according to the sources close to the issue, as cited by the media.
The French side is reportedly planning to request greater transparency of the Japanese probe, claiming the case surrounding Ghosn has been recently underreported.
Last week, Japanese Industry Minister Hiroshige Seko and French Finance and Economy Minister Bruno Le Maire reaffirmed the two countries' support for the Renault-Nissan-Mitsubishi alliance.
Earlier, the board of Mitsubishi Motors that is allied with Renault and Nissan fired Carlos Ghosn as its chairman following the arrest. Ghosn won't be able to perform his duties, considering his arrest and Nissan's dismissal of him as chairman, according to Mitsubishi Motors' CEO Osamu Masuko, who was chosen acting chairman pending a shareholders' meeting.
For more stories on economy & finance visit RT's business section
You can share this story on social media: