'Who started it? America!' Duterte blames Philippines inflation on 'friend Trump' & his trade wars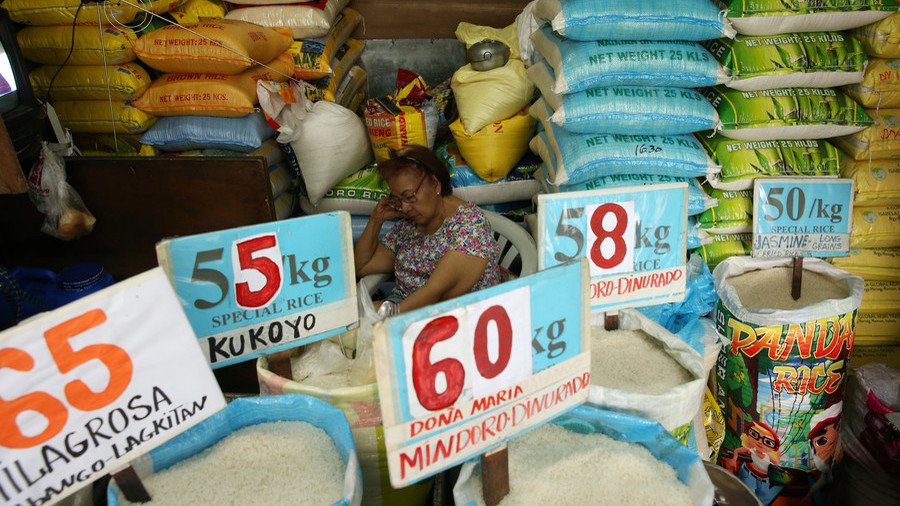 The spillover effect of the US trade conflicts with China and the rest of the world has impacted the price of goods in the Philippines, Rodrigo Duterte said, vowing to talk to his "friend Trump" and bring inflation under control.
The Philippines inflation rate hit a nine-year high of 6.4 percent last month, just as the US and China rolled out the latest round of reciprocal tariffs amid an escalating trade war between the two world powers. On Thursday, the Philippines peso reached a 13-year low against the US dollar, dropping to P53.8 to $1.
"Inflation is because of Trump," Duterte said, addressing expats in Jordan on Friday. "When Trump raised tariffs and banned other items, it all went haywire."
"Who started it? America. When America raised its rates, everyone raised theirs as well. That is how it is. There is nothing we can do," he told reporters. "I will talk to friend Trump… I have nothing against the American people, not the slightest… misgiving against Trump."
While the Philippines leader blamed the US president for the inflation hike, economic indicators compiled by the Bangko Sentral ng Pilipinas (BSP) point to "food supply shocks," mainly in the rice and oil market. Government taxes on certain food items, alcohol and tobacco also drove up the prices.
"An unfortunate confluence of cost-push factors continue to drive consumer price inflation in August beyond the acceptable target range," BSP Governor Nestor Espenilla Jr said earlier this week. "These warrant more decisive non-monetary measures to fully address."
Meanwhile, Duterte noted in his speech in Jordan: "I am not apologizing. There is really inflation and we are trying to control it."
The Philippines' finance chief previously noted that his country is "sort of insulated" from risks of the Sino-American trade conflict, partly due to the fact that the country largely has a domestically driven economy, with exports accounting for only 18.8 percent of GDP.
The Asian nation can still be vulnerable to Trump's tariffs against China, however, because Manila supplies Beijing with some raw materials and semi-finished goods that China then uses to produce products it exports to the US. Around 11 percent of the Philippines' shipments abroad formed a part of China's value chain in 2016 and 2017, the Philippines Statistics Authority's data shows.
The Philippines-US trade amounted to $20.1 billion in 2017, with Washington running a $3.2-billion trade deficit, the Office of US Trade Representative reports. Last year, Washington's exports to the country totaled $8.5 billion, while goods imports stood at $11.6 billion. Electrical machinery, other machinery, cereals, and aircraft trade categories topped the list of US exports to the country last year.
For its part, Manila delivered $4.1 billion of electrical machinery, $3 billion of other machinery and $556 million of animal or vegetable fats and oils to the US. Other Philippines exports included knit apparel, as well as optical and medical instruments. Because of the domestic nature of the Philippines economy, the country has also been spared from harsh tariffs imposed by Trump on China.
Just on Friday, Trump threatened to slap Beijing with an additional $267 billion worth of tariffs, on top of the $200 billion the White House has already lined up. So far, the US and China have officially introduced levies on some $50 billion of each other's exports.
Think your friends would be interested? Share this story!
You can share this story on social media: