Trump says he's ready to hit China with $267bn in additional tariffs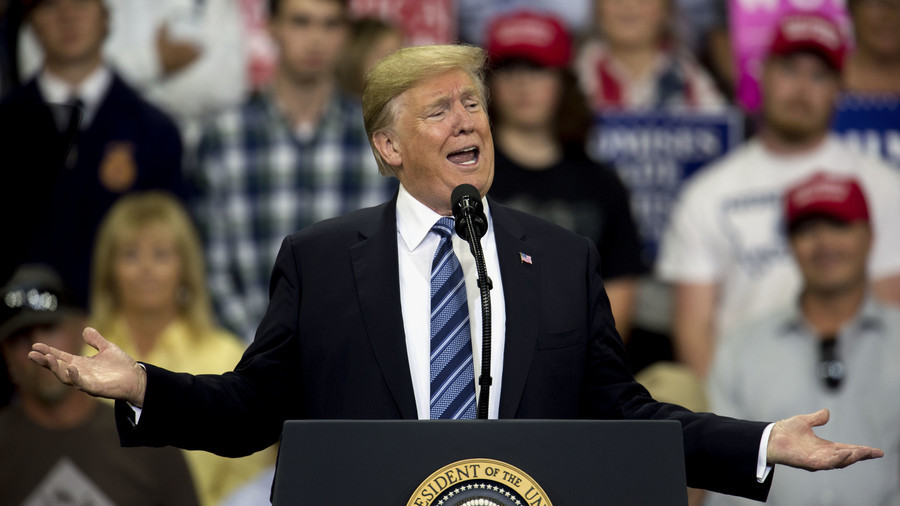 President Donald Trump told reporters that tariffs on an additional $267 billion worth of Chinese goods are ready to go, in addition to the $200 billion in tariffs the White House has already lined up.
Trump told reporters about the tariffs on Friday while returning to Washington DC from Montana, where he held a campaign-style rally Thursday night.
The new taxes are in addition to a 25 percent levy on $200 billion worth of Chinese goods with which Trump has already threatened China. These tariffs have not yet been applied, and White House economic adviser Larry Kudlow said that Trump will not make a final decision on implementing them until after he evaluates comments from the public.
Speaking to CNBC on Friday, Kudlow added that Trump is in communication with Chinese President Xi Jinping, and is open to reaching a compromise.
"We are still talking with China on a number of issues," said Kudlow. "Those talks will continue to go on. We want lower (trade) barriers across the board."
Trump has been locked in a trade dispute with Beijing over China's policy of forcing US companies to hand over trade secrets, as a price of doing business in China. Both countries have already slapped levies on $50 billion of each other's exports, and China promised on Thursday to respond to any US escalation with "necessary countermeasures."
Trump's proposed levies target Chinese food products, minerals, and consumer goods like electronics and handbags.
US stocks plummetted on Friday as the news broke, with The Dow Jones Industrial Average dropping around 140 points in little over half an hour.
Think your friends would be interested? Share this story!