'Not good enough': Trump rejects EU offer to dump auto tariffs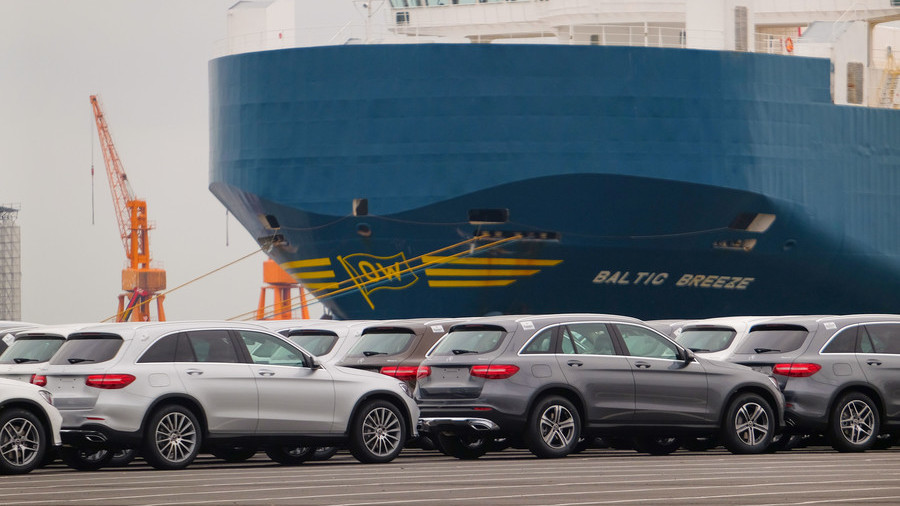 US President Donald Trump has refused an offer from the European Union to scrap tariffs on mutual imports of vehicles, saying the proposal is a one-sided deal favoring Europe.
The response came hours after EU Trade Commissioner Cecilia Malmstrom announced that the bloc is "willing to bring down even our car tariffs to zero, all tariffs to zero, if the US does the same."
"It's not good enough. Their consumer habits are to buy their cars, not to buy our cars," Trump said in an interview with Bloomberg News.
Under the current trade agreement, Washington levies a 25 percent tariff on light trucks and pickups and 2.5 percent on smaller vehicles from Europe, while Brussels imposes a 10 percent tariff on all passenger cars imported from the US.
So far, automobiles have been excluded from trade negotiations between the partners, who focused mostly on non-auto industrial goods bought and sold between the two markets. Last month, the EU agreed to buy more US produce, including more soybeans and liquefied natural gas (LNG) in an effort to avoid a large-scale trade war. Back then, the sides agreed not to impose new tariffs on each other's exports, achieving zero tariffs, zero subsidies and zero non-tariff barriers for manufactured products.
In response to Trump's rejection of eliminating auto tariffs, European Commission President Jean-Claude Juncker said Brussels will respond in kind if the US opts to increase the current car tariffs. On Friday, Juncker told German broadcaster ZDF that the EU would not let anyone determine its trade policies. He said that if Washington violated the deal reached in July and imposed auto tariffs then "we will also do that."
Trump compared the EU to China in what the US president describes as their unfair trade practices that have led to America's growing trade deficit. "The European Union is almost as bad as China, just smaller," he told the agency.
To address the problem, the Trump administration has imposed tariffs on goods imported from the EU and China. US trade partners have responded with retaliatory levies on American goods, raising the threat of a trade war. President Trump said that he supports additional tariffs on $200 billion in Chinese exports as early as next week.
For more stories on economy & finance visit RT's business section
You can share this story on social media: