India to tax 30 American products in 'equivalent' retaliation for US tariffs hike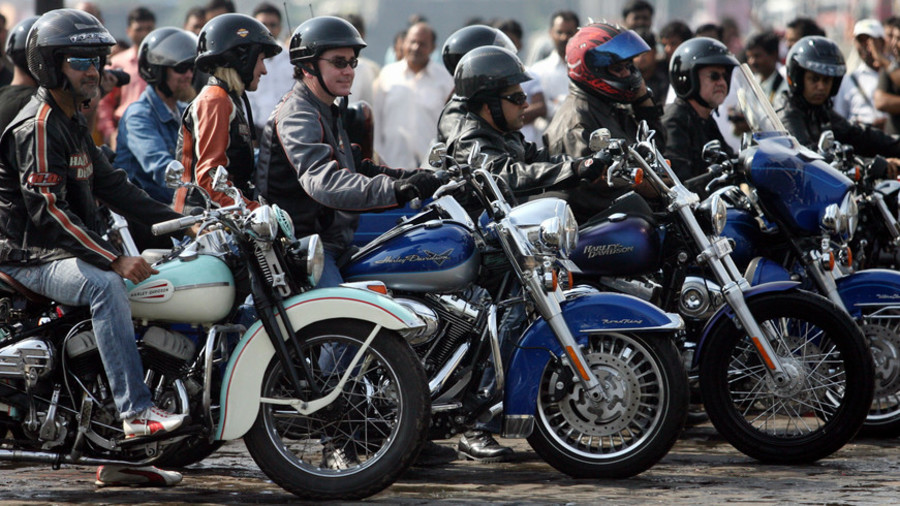 India will suspend trade concessions and raise import duties on 30 products from the United States by up to 50 percent, in a mirror response to Washington's impetuous move to impose tariffs on steel and aluminum imports.
New Delhi has drawn up a list of 30 American products it now wants to target with increased import duties. The new measures will see a 50 percent tariff increase on motorcycles with engine capacities of over 800cc, while apple imports would be charged with a 25 percent levy. Imports of almonds and walnuts would see a 20 percent levy.
China strikes back: Beijing sets 25% tariff on $50 bln worth US products
Earlier this week, New Delhi sent a letter to the World Trade Organization notifying the body of its intention. The total tariff increase on all products in the list will amount to an estimated additional $240 million in import fees. The sum is roughly equivalent to the damage India would suffer from Donald Trump's protectionist measures.
India notified World Trade Organisation of its decision to suspend concessions to US on 30 products, after safeguard measures imposed by US on imports of certain articles. India clarified that suspension of concessions shall be equal to amount of trade affected by US' measures. pic.twitter.com/SAyY6HWYsf

— ANI (@ANI) June 16, 2018
"The proposed suspension of concessions or other obligations takes the form of an increase in tariffs on selected products originating in the United States, based on the measures of the United States," New Delhi wrote to the WTO on June 13. "India wishes to clarify that suspension of concessions shall be equivalent to the amount of trade affected by the United States' measures."
"India reserves its right to further suspend substantially equivalent concessions and other obligations based on the trade impact resulting from the application of the measures of the United States," the notification added.
In March, President Trump announced 25 and 10 percent tariffs on all foreign steel and aluminum entering the United States. While some countries were granted exemptions, India wasn't. New Delhi made representations to the WTO in May, threatening to raise duties by up to 100 percent on 20 products imported from the United States. This week, the government has finalized its list and figures. Earlier, India said it will go ahead with retaliatory measures on 21 June, unless the US reconsiders its import fees.
New Delhi notified the WTO just as Commerce Minister Suresh Prabhu was wrapping up his trip to Washington, where he held discussions with US Commerce Secretary Wilbur Ross and US Trade Representative Robert Lighthizer, to find ways to avoid an all-out trade war.
Last week, speaking at the G7 gathering in Canada, Donald Trump lashed out against "unfair" foreign trade relations, this time between the United States and India. "I mean, we have India, where some of the tariffs are 100 percent. A hundred percent. And we charge nothing. We can't do that," Trump said last week. "We're like the piggybank that everybody is robbing."
Think your friends would be interested? Share this story!
You can share this story on social media: