China will get 10 Russian Su-35 fighter jets this year as part of $2.5bn deal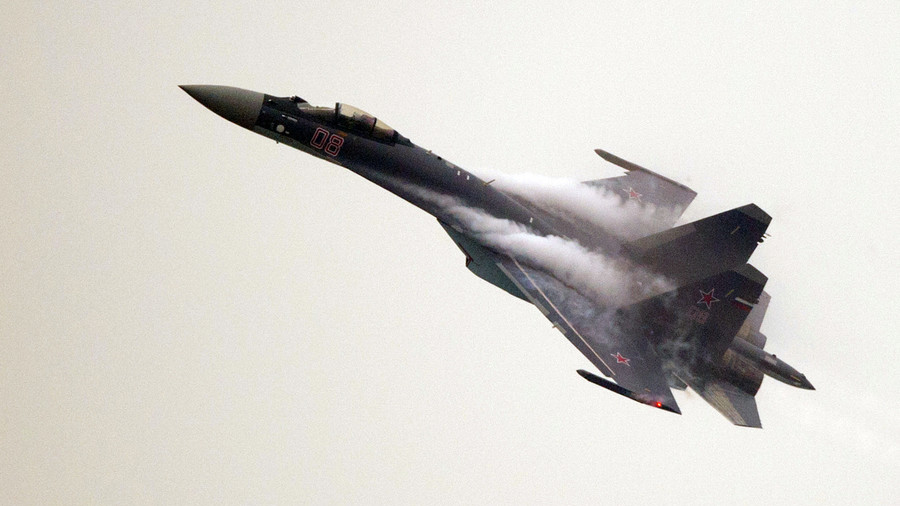 Beijing has so far received 14 Russian Sukhoi Su-35 multipurpose fighter jets, Russian state corporation Rostec announced at the St. Petersburg International Economic Forum. Ten more jets are to be handed over to China this year.
The $2.5bn contract for the delivery of a total of 24 long-range 4++ generation super-maneuverable aircraft was signed between Rostec and the Chinese government in November 2015. Four Su-35s were previously delivered to China in 2016, and 10 more were shipped in 2017.
Beijing will receive 10 more fighter jets this year, as was earlier defined in the contract, Interfax reports, citing a statement by the company at the St. Petersburg International Economic Forum, which is being held from May 24 to 26.
The fifth generation technology of the Sukhoi-35 renders it superior to other fighters of similar classes. China is currently one of the top buyers of Russian arms.
The Sukhoi Su-35 – the top Russian air-superiority fighter jet – uses fifth-generation technology and is distinguished by high maneuverability and advanced electronics. Its radar with a phased array antenna makes it possible for the Su-35 to detect targets at long range, allowing it to simultaneously hit multiple targets.
Sukhoi Su-35s are armed with an internal 30mm cannon and have 12 hardpoints with a combined capacity of 8,000kg, compatible with a wide range of unguided and guided missiles and bombs. It can reach a maximum speed of 2,500kph, with a range of 3,400km, and a combat radius of around 1,600km.
China became the first overseas buyer of the Su-35 after signing a $2.5bn-contract with Russia in 2015. The Russian-built multifunctional fighter jet was used solely by Russia prior to that.
Mass production of the 4++ generation jet is based in Komsomolsk-on-Amur, Russia.
Think your friends would be interested? Share this story!