Russian stocks to rebound as panic over US sanctions simmers down – analysts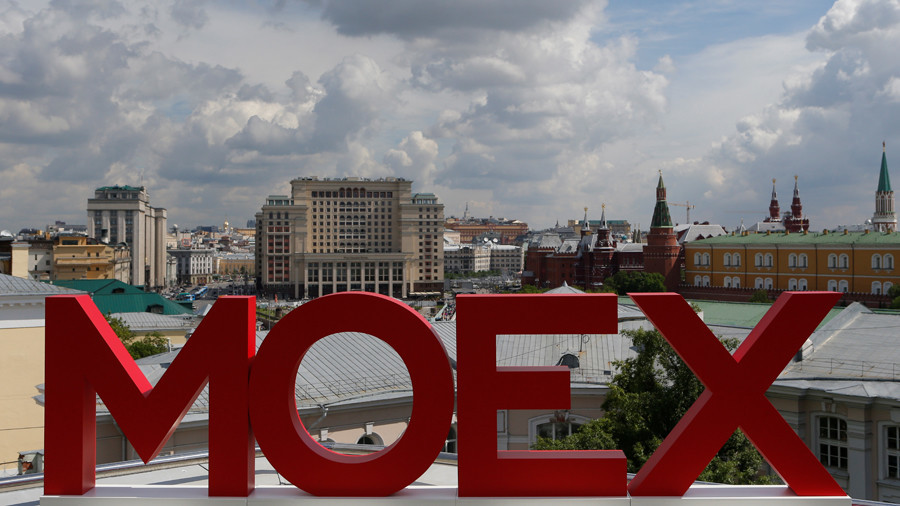 The Monday sell-off on the Moscow stock exchange, triggered by US sanctions targeting Russian businessmen and their companies, was an overreaction by nervous investors, according to analysts polled by RT.
While investors fear American sanctions, they are unlikely to give up on the Russian bonds, which offer some of the best yields on the market, according to Global FX investment analyst Vladimir Rozhankovsky.
"Russia provides the highest yields among the emerging economies on its sovereign debt (the OFZs). There is no alternative to Russian bonds. The institutional investors know the high price of retaining the yield of their portfolios," the analyst told RT.
"It would be silly to deny the problems of the businessmen on Washington's blacklist. Monday's panicky dumping of Russian stocks looks, to a greater extent, like a momentary panic. Do not be surprised that at the end of the week we will see a decent rebound," Rozhankovsky added.
The fall of the Russian currency to above 60 rubles per dollar is a negative sign, and will likely boost inflation with a delay of two to three months, something that the Russian economy doesn't need at the moment, the analyst said.
Other analysts, interviewed by RT, agree that panic led investors to dump Russian assets.
"The fall in the ruble is driven by panic. We are yet to understand what real economic damage these sanctions will bring. In addition, it is worth noting that the United States has already announced new sanctions after the alleged chemical attack in Syria. This factor also brings panic to the markets," said Ivan Kapustiansky, leading analyst at Forex Optimum.
"In the long term, we will see a recovery. What is happening on the market now is psychological hysteria, which is not caused by the actual falling / closing / bankruptcy of companies. Or a drastic change in the monetary policy of the Central Bank. The Russian economy will be affected by a decrease in investment attractiveness, which means that the recovery period will be slowed down," said Denis Vladimirov, leading analyst at the Center for Modern Investment Technologies.
For more stories on economy & finance visit RT's business section
You can share this story on social media: