India building city from scratch to challenge Singapore & Hong Kong financial hubs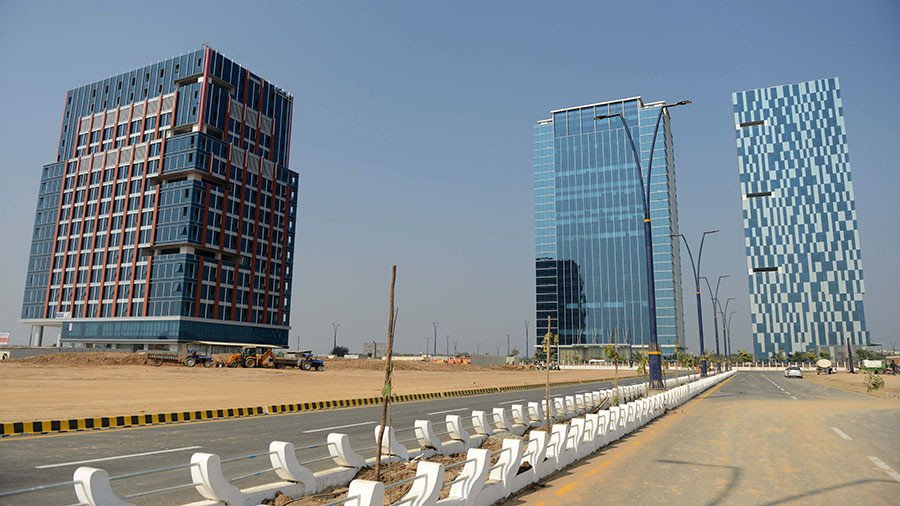 A new city is being built on barren lands in India's western state of Gujarat to give foreign investors easy access to its booming economy.
Called Gujarat International Finance-Tec City, or GIFT City, it is planned to be on a par with global financial hubs.
"Except for the fact that we are not sitting in Singapore and GIFT City is not Singapore, I think from a business perspective we have everything that is required," the city's CEO Ajay Pandey told CNN.
The new city has already attracted close to $2 billion in real estate investment, and Pandey expects the sum to eventually rise to nearly $11 billion.
It currently consists of a school, a data center, and three large office buildings, to which workers are bussed from surrounding areas. The first residences will be ready by May, and a four-tower World Trade Center complex is expected to be completed in the next two years. As for the transportation links, Ahmedabad Airport is only a 25-minute drive away.
Two stock exchanges were established in GIFT City in 2017, and government exemptions recently made trading virtually tax-free. The city will also have its own financial regulator as part of an effort to reduce red tape and bureaucracy for foreign investors.
Authorities claim that moving operations to GIFT City has helped some companies reduce costs by up to 80 percent.
"For a foreigner, landing in GIFT is more like landing in other financial centers," said Dipesh Shah, who heads the city's financial services operations. "It gives you all the competitive tax regimes which you are used to outside India."
The country's potential has long been attracting foreign investors. Its economy grew by 7.2 percent in the final three months of 2017 (which is faster than China) after recovering from the effects of a shock cash ban and a disruptive tax overhaul.
"Eventually, GIFT city should become a vehicle or a place for people from across India, like Hong Kong has acted for China in the last 30 or 40 years," said Bombay Stock Exchange CEO Ashishkumar Chauhan.
When the Bombay Stock Exchange started operating 15 months ago, it hosted daily trading worth around $1 million. This week, that number exceeded $500 million for the first time.
"The moment you hit close to half a billion dollars, that's the time that some of the big names of the world – JP Morgan, Morgan Stanley and others – begin to step in," said Pandey, adding: "Things are beginning to roll."
For more stories on economy & finance visit RT's business section
You can share this story on social media: