'Neither good nor easy to win': EU, China gear up for trade war with US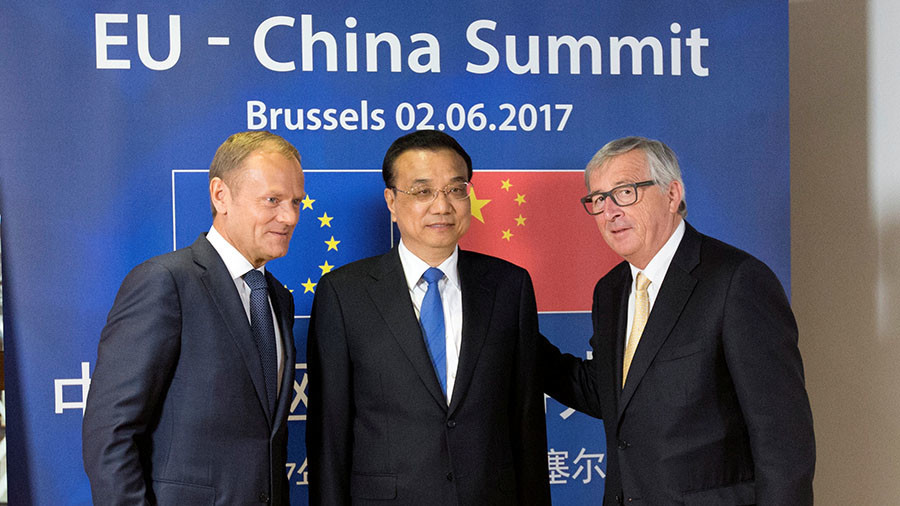 European and Chinese officials are firing shots across America's bow over plans by the Trump administration to impose protectionist tariffs on its steel and aluminum imports. A trade war looms as a result.
President Donald Trump is expected to set tariffs of 25 percent on imported steel and 10 percent on imported aluminum this week. If given the green light, they are likely to come into effect within two months. Trump promoted the looming protectionist measures by bragging on Twitter that trade wars were "good and easy to win." Officials in China and European nations, whose industries would be hurt by the US move, are warning this may not be the case.
President Trump said: 'trade wars are good and easy to win'. But the truth is trade wars are bad and easy to lose. EU's goal is to keep world trade alive and if necessary to protect European by proportionate responses.

— Donald Tusk (@eucopresident) March 7, 2018
"The truth is trade wars are bad and easy to lose. [The] EU's goal is to keep world trade alive and if necessary to protect European [sic] by proportionate responses," European Commission President Donald Tusk said on Wednesday in response to Trump's remark.
The EU would find thousands of jobs in jeopardy if Washington's import tariffs affect the union, Trade Commissioner Cecilia Malmström said. The Europeans would target US products such as whiskey, peanut butter, orange juice and motorcycles in retaliation, which a worth about $3.5 billion in trade annually.
Looking forward to 3:30 P.M. meeting today at the White House. We have to protect & build our Steel and Aluminum Industries while at the same time showing great flexibility and cooperation toward those that are real friends and treat us fairly on both trade and the military.

— Donald J. Trump (@realDonaldTrump) March 8, 2018
China, which is believed to be the primary target of Trump's looming trade war, warned that trade wars also "harm the initiator."
"As for our trade frictions, history teaches that trade war is never the right solution. In a globalized world it is particularly unhelpful as it will harm the initiator as well as the target country," China's Foreign Minister Wang Yi said.
"Given today's globalization, choosing a trade war is a mistaken prescription. The outcome will only be harmful," he added on the sidelines of an annual meeting of the national parliament. "China would have to make a justified and necessary response."
China has been asked to develop a plan for the year of a One Billion Dollar reduction in their massive Trade Deficit with the United States. Our relationship with China has been a very good one, and we look forward to seeing what ideas they come back with. We must act soon!

— Donald J. Trump (@realDonaldTrump) March 7, 2018
Beijing did not hint how exactly it would retaliate for curbing its metal trade with the US, but US products like soybeans, aircraft and cars are a likely target for counter-tariffs, according to many observers. However, China is known to have previously used economic measures against US allies. For instance, it hit the South Korean tourism and retail industries last year after Seoul agreed to host American anti-ballistic missiles on its territory, a move that Beijing called a threat to its national security.
Trump, who was a vocal critic of China during his election campaign over allegedly unfair business practices, did not rush into launching any open trade confrontation with Beijing after taking office. But his administration is also considering trade sanctions against China over alleged infringement of intellectual property and barriers that the Chinese markets have for American businesses.
Trump's economic adviser Gary Cohn resigned his position in the White House on Wednesday in what is speculated to be protest against the tariffs plan. Cohn is an advocate of free trade.
If you like this story, share it with a friend!