Russian LNG unfazed by US sanctions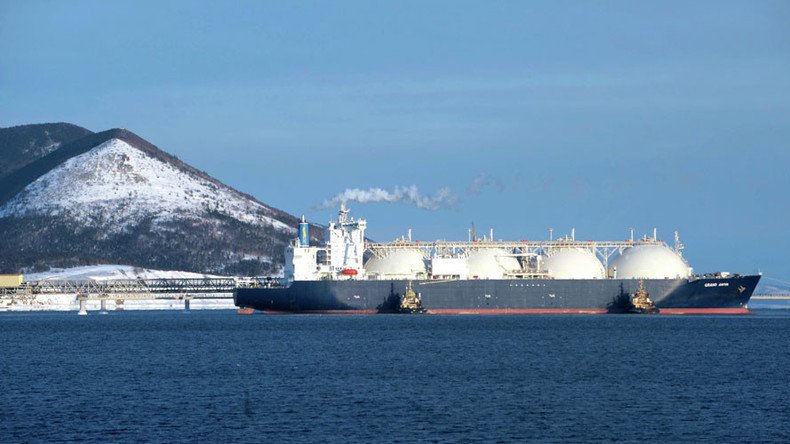 Russia's energy industry faces a new round of US sanctions—including on oil projects in any location if a designated entity holds more than 33 percent. And in Europe, where Russia's gas giant Gazprom currently holds a large share of the gas supplies, Poland and Lithuania are buying US (liquefied natural gas) LNG in an effort to shake off Russian dominance.
Despite the sanctions and cold shoulders from Poland and Lithuania, Russia still has plans to boost its LNG capacity and exports, with one of its major LNG export projects focusing on Asia, more specifically China, as its destination. The LNG project has relied on Chinese funding to bring the project to completion.
By securing funding from China, Russia is not only finding alternative sources of financing in the face of US sanctions; it's also securing sales volumes in the fastest-growing LNG import market.
Russia's President Vladimir Putin said earlier this year that the country not only can—but will—become the world's biggest LNG producer. Although Putin didn't specify a time frame for reaching this ambitious goal, should Russia significantly boost LNG production and exports, it could potentially upend the global LNG trade flows and exporters' market shares within the next decade.
The one major LNG project that is about to begin is not spearheaded by Gazprom; it's Novatek, which is sending its first cargo from the Yamal LNG project to one of its Chinese partners in the venture, CNPC. Yamal LNG, in which France's supermajor Total holds 20 percent, has Novatek as its majority shareholder with 50.1 percent, while China's CNPC and Silk Road Fund own 20 percent and 9.9 percent, respectively.
Read more on Oilprice.com: Why Oil Bulls Are Running Rampant
Novatek sold that 9.9-percent stake to the Silk Road Fund in early 2016, after having received a 15-year loan of around $851 million (730 million euro) from the fund for financing the Yamal LNG project.
"As a result, Novatek not only became an important vehicle for international partnership but also became a key link in Russia's drive to expand links with Asia as part of the country's 'Pivot to Asia'," James Henderson wrote in a paper for The Oxford Institute for Energy Studies published in March this year.
Speaking at the conference call for Novatek's Q3 results last week, Mark Gyetvay, Deputy Chairman of the Management Board, said, commenting on Yamal LNG's first shipments:
"Another question many people are asking is the destination of the first tanker. This question is obviously a very symbolic point. Early LNG allocation to partners is based on agreed volumes, but it is our view that the first LNG tanker should be offloaded by CNPC in recognition for their overall contribution to the project and the importance the Asian Pacific market represents as a key-consuming region."
"We estimate that the larger proportion of LNG from Yamal will be sold in Asia but ultimately cargos will be sold to whichever market offers the highest netback to the respective seller," Gyetvay added.
Novatek is also taking steps to shore up Chinese markets and to secure funding for another LNG project in the plans, Arctic LNG 2, tentatively slated for first production sometime in the early 2020s. On Wednesday, Novatek signed a strategic deal with CNPC on works for Arctic LNG 2, as well as on LNG trading and gas infrastructure development. The Russian firm also agreed to cooperate with China Development Bank for Arctic LNG 2 and other projects, "including financing and investment into the capital of these projects."
Gazprom, which put on stream Russia's first LNG plant, Sakhalin II, in 2009, is also planning additional LNG capacity. In June this year, Gazprom signed a Heads of Agreement with Shell to start looking into developing preliminary project documentation for the Baltic LNG project. A Shell subsidiary holds 27.5 percent minus one share in the operational Sakhalin II plant.
Oil giant Rosneft has also planned to venture into LNG, and signed in May 2014 a preliminary deal with ExxonMobil to cooperate on the Far East LNG project. But this was just before the US slapped the first sanctions on Russian energy firms in July the same year—restricting access to US capital markets for Rosneft and Novatek. Since then the US has tightened sanctions against Russian energy firms several times.
So Russian LNG developers have started looking to China for funding and to the Asian market—including China—for LNG sales.
The market is a logical choice; China is expected to become the leading determinant in global natural gas demand, outpacing the US as the biggest natural gas consumer somewhere between 2040 and 2050.
Read more on Oilprice.com: The Oil Company That Lost $800 Billion In Shareholder Value
Although many analysts point to the current glut in the LNG market, according to a report by Research and Markets from August 2017, the global LNG market demand exceeded 265 million tons last year and is expected to grow at a compound annual growth rate (CAGR) of 6.5 percent in 2017-2025, with Asia Pacific consumption expected to stay "exponentially high over the next decade owing to various developments across emerging economies, especially in the power generation and transportation market."
This article was originally published on Oilprice.com
You can share this story on social media: