Russia goes all in on Arctic oil development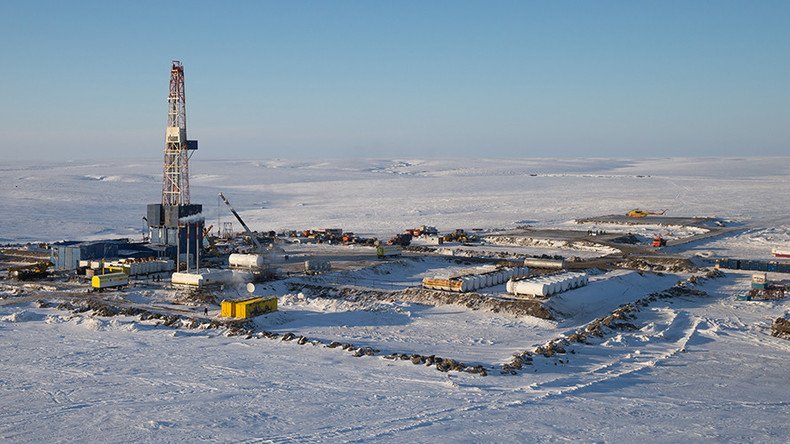 Neither sanctions nor persistently low oil prices are hindering Russia's ambitions or plans to develop oil resources in its sections of the Arctic.
In April, state-controlled oil giant Rosneft started drilling the northernmost well on the Russian Arctic shelf in the Khatangsky license area in the Laptev Sea. In June, Rosneft struck first oil in the Eastern Arctic in this license.
Earlier this month, the oil firm said that recoverable reserves at the field exceed 80 million tons of oil, which is equal to around 586.4 million barrels. Geological data point to reserves at the field at 298 million tons of oil, or some 2.184 billion barrels, and the oil is high quality—light and low-sulfur, according to Rosneft.
The Russian oil giant—whose CEO Igor Sechin is a close ally of Vladimir Putin—continues to drill at the field to study its geology, search for more oil, and define future drilling strategies at the license, Rosneft says.
Rosneft and Gazprom's oil unit Gazprom Neft are the only two companies allowed to drill in the Arctic offshore under Russia's legislation.
Gazprom Neft operates the only oil-producing platform in Russia's Arctic currently. The Prirazlomnoye oil field in the Pechora Sea started pumping oil back in late 2013. The field is estimated to hold 70 million tons of oil, or 513 million barrels, with annual production averaging 5.5 million tons (40.3 million barrels) at full capacity.
Read more on Oilprice.com: Is The Aramco IPO On The Brink Of Collapse?
Rosneft also plans to resume drilling in the Barents Sea next year and in the Kara Sea within two years, thus committing itself to conduct drilling works across the entire Russian section of the Arctic.
Rosneft holds 28 licenses in the Russian Arctic shelf that are estimated to have combined reserves of 34 billion tons of oil equivalent, or 249.22 billion barrels. Since 2012, Rosneft has invested $1.74 billion (100 billion rubles) in Arctic exploration, and will invest in 2017-2021 another $4.354 billion (250 billion rubles).
Russia, for its part, has stated that Arctic oil and Arctic development are priorities in its policies, and is supporting development with financing in a kind of political message that sanctions won't deter its Arctic oil ambitions.
The US Treasury sanctions list from 2014 prohibits the exports of goods, services (not including financial services), or technology in support of exploration or production for Russian deepwater, Arctic offshore, or shale projects that have the potential to produce oil.
While Western banks are still evaluating the potential impact of the latest round of U.S. sanctions on Russia from this summer, Moscow is committing funds to Artic development. At the end of August, Prime Minister Dmitry Medvedev said that Russia will finance the development of the Artic continental shelf and the economy of the local areas with more than $2.787 billion (160 billion rubles) by 2025. He said Russia's program for Arctic development rests on three pillars: boosting economic growth, developing sea infrastructure, and developing the continental shelf with modern technology and equipment.
Read more on Oilprice.com: Oil Markets Fear Iraqi Escalation
As part of that program, in 2021-2025, the government will fund $414.5 million (23.8 billion rubles) for a program to build oil and gas equipment and technology and industrial machinery for exploration and development in the Arctic.
According to experts cited by Rosneft, the Arctic shelf is expected to account for 20-30 percent of Russia's total oil production by 2050.
It's not clear who will need Russian Arctic oil in 2050, but in the shorter term, Russia is betting on the Arctic, and Rosneft's exploration success this year could really pay off.
This article was originally published on Oilprice.com
You can share this story on social media: