Washington's economic war against Russian gas supplies to Europe unacceptable – Gerhard Schroeder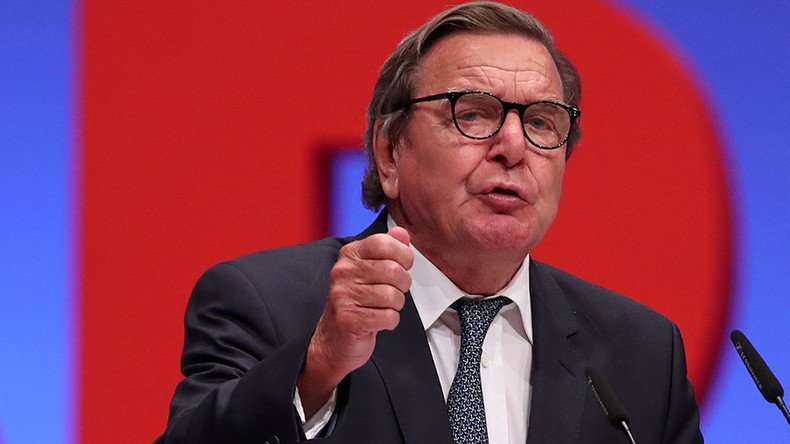 The United States would like to weaken Russia's energy cooperation with the European Union, said former German Chancellor Gerhard Schroeder, adding it's unacceptable to create barriers to Russian gas deliveries to the German market.
"It's wrong if the Americans and the European Union somehow resist each other on this issue. And still there are attempts to create some difficulties for this project [Nord Stream 2 gas pipeline – Ed.]," he told Rossiya 24 news channel.
According to Schroeder, "the fact the Americans will try entering the German market with the help of sanctions and to dominate with its liquefied shale gas is nothing but the signs of an economic war, and such war is unacceptable."
Germany is interested in gas which it "will receive for sure and which will be cheaper than shale gas," said Schroeder.
The ex-chancellor said German authorities were right to call the Nord Stream 2 gas pipeline purely an economic project which should not be politicized.
Last week, European Commissioner for Competition Margrethe Vestager said the EU has no legal means to stop the pipeline that will deliver natural gas from Russia to Germany.
READ MORE: Russia will re-route Nord Stream 2 natural gas pipeline if Denmark tries to block it
The Nord Stream 2 pipeline will double the capacity of the existing Nord Stream pipeline, which goes under the Baltic Sea to Germany. The Gazprom-led project is opposed by the Baltic States and Poland.
During the EU summit on Friday, Polish Prime Minister Beata Szydlo described the Nord Stream 2 pipeline as a threat to European energy security.
Russian President Vladimir Putin said this week Moscow faces obstacles constructing the new route despite the fact that diversification of gas supplies is cost-effective, beneficial to Europe and serves to enhance the security of supplies.
The Kremlin has repeatedly said the pipeline is strictly about business, accusing the United States of trying to thwart the project, as it wants to export its own liquefied natural gas to Europe.
You can share this story on social media: