China to buy over $1tn worth of planes by 2036 as economy expands – Boeing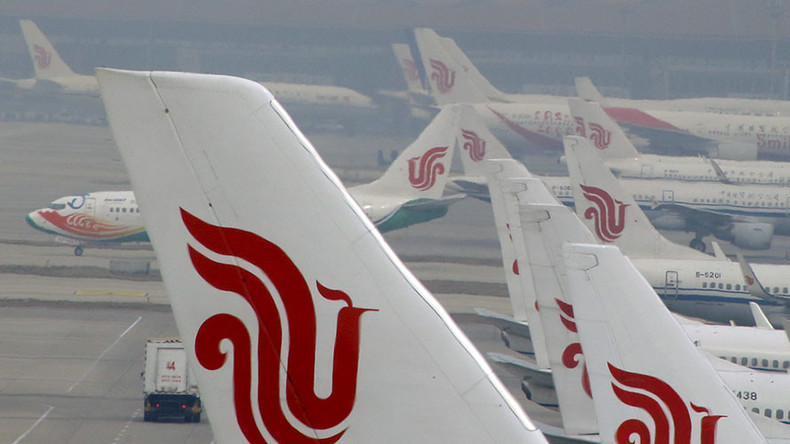 Economic growth in China has spurred an increasing demand for aircraft, says Boeing. The US airplane maker has updated China's purchasing forecast to $1.1 trillion in the next two decades.
Boeing estimates China will buy 7,240 aircraft by 2036, 6.3 percent higher than the US company's previous prediction of 6,810 planes last year.
"China's continuous economic growth, significant investment in infrastructure, growing middle-class and evolving airline business models support this long-term outlook," said Randy Tinseth, Boeing Commercial Airplanes vice president of marketing.
"China's fleet size is expected to grow at a pace well above the world average, and almost 20 percent of global new airplane demand will be from airlines based in China," he added.
China accounts for almost 11 percent of Boeing's revenue, according to Bloomberg.
About 75 percent of the new aircraft will be single-aisle, as demand for travel within China and throughout Asia grows.
Boeing and its rival Airbus are fighting to increase their share of the fastest-growing market in the world.
According to the International Air Transport Association (IATA), China will overtake the United States as the world's largest aviation market by passengers by 2024.
Both firms have made serious profits in China, as local airlines expanded their fleets aggressively.
Separately, China is developing its own civil aircraft. China's twin-engine Comac C919, which can carry up to 158 passengers and has a range of 4,075km. A longer-range version can fly up to 5,555km. The plane had its maiden flight in Shanghai this May. Comac says it has more than 600 orders from Chinese carriers.
You can share this story on social media: