US laptop ban lifted on Emirates & Turkish Airlines
Published time: 5 Jul, 2017 11:19
Edited time: 5 Jul, 2017 11:21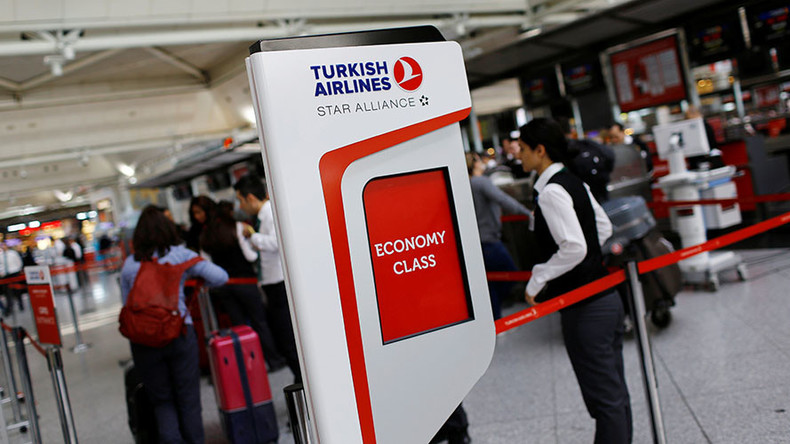 The United States has ended the in-cabin ban on laptops and other large electronics on US-bound flights from Dubai and Istanbul, Emirates and Turkish Airlines announced on Wednesday.
The decision comes three days after restrictions were reversed at Etihad Airways' hub Abu Dhabi International Airport.
"Dear Passengers, welcome on board to our US-bound flight. Please fasten your seatbelts and enjoy your own electronic devices," the Turkish airline said on Twitter.
The state-run Anadolu news agency said on Tuesday Turkey's Transport Minister Ahmet Arslan had said the ban on devices on flights from Istanbul to the United States would be lifted on Wednesday.
Chief Executive Bilal Eksi also tweeted that the company expected a similar ban on flights to Britain would soon be cancelled, too.
The ban was imposed by Donald Trump's administration in March at ten airports in eight countries - Egypt, Morocco, Jordan, the United Arab Emirates, Saudi Arabia, Kuwait, Qatar and Turkey. The US authorities feared that bombs could be hidden in electronic devices.
The UK later introduced a similar ban, which does not apply to flights from Dubai and Abu Dhabi.
Saudi Arabia Airlines (Saudia) expects the US authorities will give the green light to flights from Jeddah and Riyadh by July 19, state news agency SPA reported on Tuesday.