Putin calls on American business to help restore dialogue between US and Russia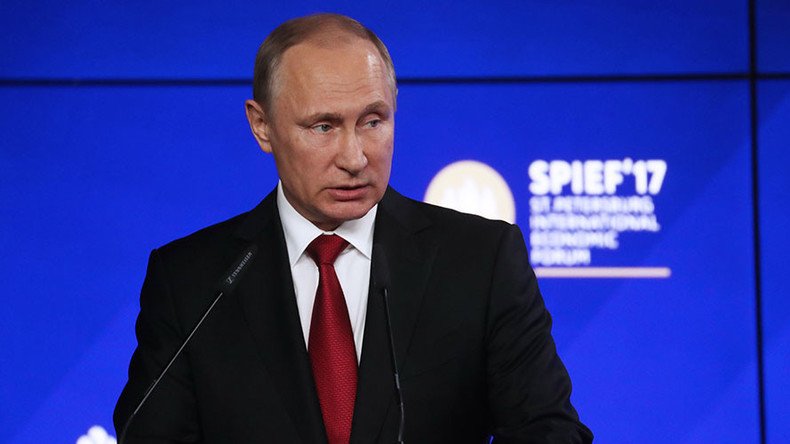 Russian President Vladimir Putin said on Friday that the foundation of relations between Russia and the United States, which has been formed over decades, has been destroyed in recent years. He asked US businesses to help restore regular dialogue with Washington.
Economic cooperation between Russia and the US is generally good, added the Russian president.
"Our economic interaction with the US is balanced, diversified and technologically rich. It is generally in good shape," Putin said at the Russia-US Business Dialogue, which is taking place during the St. Petersburg International Economic Forum.
According to President Putin, the current Russian-American bilateral links are at their lowest since the Cold War. However, he added, the sides continue to talk within various international formats, such as the United Nations, G20, and APEC.
The Russian government will try to create a good business environment for foreign investors, including those from the US, he added.
"We will do our best to make business in Russia worthwhile for our American partners," said Putin, adding that there are strong ties between the American and Russian business communities.
READ MORE: Exxon has lost over $1 billion from Russian sanctions
Putin said Moscow will continue talking with US President Donald Trump in order to normalize relations, but the task requires political will and a "readiness to solve issues of mutual practical interest."
"Normalization of bilateral relations is in the interest of the two countries. And we will continue the appropriate dialogue with the new US President Trump and the new Administration," said Putin.
The Russian leader expressed hope that the meeting of Russian and American entrepreneurs at the Forum and their initiatives will help to solve the "difficult task of restoring confidence and building a constructive dialogue."
He agreed with the words of the discussion's moderator, businessman Viktor Vekselberg that in the business world much depends on the state of political intercourse between the countries.
"Help us restore a normal political dialogue. I am asking you on behalf of Russia and am appealing to the American side to help as well the newly elected President Donald Trump and his administration," said Putin.
This year the economic forum was attended by a larger number of American companies than in 2016. Last year the US State Department warned firms doing business in Russia were taking economic and reputational risks. Despite the US government's objections SPIEF 2016 was attended by major US firms such as PwC, Boston Consulting, Schlumberger, Intel, ExxonMobil, Boeing, and others.
You can share this story on social media: